Book Crawler—a $2 app for iPhone and iPad from Jaime Sokes—is an excellent way to create and keep a database of your books, but only after you overcome the challenge of understanding how the app works.
In that respect, the iPhone version of Book Crawler is much more enjoyable to use: When you fire it up for the first time, it offers a series of user tips in the form of push notifications. On the iPad, though, you're left with a lengthy and complicated series of menu and settings options that seem to need mostly trial-and-error to understand. Many users will probably be discouraged at this stage.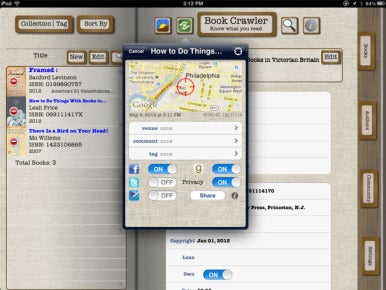 If you can push through the initial confusion, though, the app becomes an asset. You can add books that you've purchased or read to the database either manually, by doing a Google Books search, or by scanning the bar code on the back of your book. (You'll also need either the Zbar or pic2shop scanner apps on your iOS device to use the last feature, but it's the quickest way to add books to your list.) Once entered, you can digitally peruse the stacks via an attractive iTunes-style cover-flow mode, or sort them by title, author, custom tag, or a host of other options.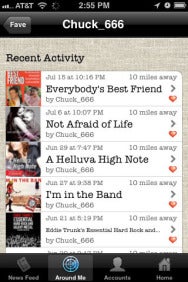 There is also a social element: You can see what other Book Crawler users in your area are reading—and, of course, they can see your list as well. You can share book recommendations via Facebook, Twitter, Foursquare, and Goodreads. At times, though, sharing book information with those outside social networks took several attempts.
Even though Book Crawler is a "universal" app for both iPhone and iPad, it doesn't appear you can sync your book lists between devices. You might end up adding a book on your iPhone, uploading it to Goodreads, then downloading to your iPad. That's cumbersome.
The shortcomings can be a challenge—a simpler (and better-explained) user interface on the iPad would make using Book Crawler much more enjoyable. Even so, the app is still useful enough to warrant a qualified recommendation.
[Joel Mathis is a writer in Philadelphia.]