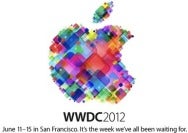 In a shocking twist of events, Apple plans to hold a keynote to kick off the company's annual Worldwide Developers Conference. The event will take place on Monday, June 11, at 10 a.m. Pacific/1 p.m. Eastern.
While the company hasn't announced precisely who will be headlining said keynote, the smart money is on a tag team approach from Apple's brass. Possible appearances may include CEO Tim Cook, senior vice president of marketing Phil Schiller, senior vice president of iOS software Scott Forstall, and vice president of Mac software Craig Federighi.
But exactly who takes the stage will largely depend on the topics presented. It seems likely that Mountain Lion will occupy a large part of the spotlight, as the update is due to be released later this summer, and—if past WWDC keynotes are any indication—it's possible the company will also take the wraps off of the latest revision to its mobile operating system. For more speculation on what other news Apple might roll out, check out our WWDC preview podcast.
Apple has also released the full schedule for WWDC on its developer website and via an iOS app, though that information is only available to registered attendees of the conference.
Macworld will, as always, provide coverage and analysis of the keynote, live from Moscone West, on June 11. Stay tuned.