This week's roundup of iOS devices is all about comfort. Sit down and relax—you won't have to reach too far to see your iPad, or get the music flowing. You might say we've become ergonomically correct.
Aeronautic Pictures: If you're aiming for top-notch picture and video production using your iPhone, the $200 Indie wants to help. The device acts as a camera housing for the iPhone 4 and 4S that allows you to access all the phone's controls, while letting you mount the phone and use an array of other tools—such as filters and microphones—to create the best-possible production. The Indie comes with a weighted handle that allows for smoother hand-held video action.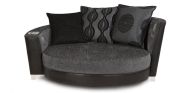 DFS: We've noticed a growing array of furniture—mostly from Europe—built with iOS devices in mind. The latest is the £699 Trophy Cuddler Audio Sofa from DFS. It's 66 inches wide to seat at least two people comfortably, and its armrest includes a dock cradle for your iPhone along with buttons to control playback and the volume of the built-in speakers and subwoofer. Buyers have a choice of seven colors.
Ergoprise: Here's a product that lets the iPad really swing: The $90 iTArm mounts on a desktop and offers hands-free access to your tablet by placing it on an arm that's adjustable to the height and distance that you find most comfortable—you can swing the arm out of the way when you're not using the iPad. Fully extended, the arm is three feet long, making it possible to keep your tablet in hands-free position even when you stand up at your desk.
NuForce: This company's $119 Cube portable speaker has got a lot of things going on. It's a portable speaker, an audiophile-grade headphone amp, and a USB digital-to-analog-converter, all in one. The two-inch device lets you plug in your iOS device's analog signal for bigger out-loud sound or to use power-hungry headphones. The Cube's DAC feature lets you connect your computer's digital audio for higher-quality speaker or headphone listening. The Cube comes in black, silver, red, or blue.
Satechi: Is iOS not quite convenient enough on its own? Satechi's $40 BT Media Remote solves the problem by letting you select and play content on your iPhone and iPad from a distance, using Bluetooth technology. Not only can you play music using the remote, you can also activate Siri on the iPhone 4S. And the device can also work as a presentation tool, letting you navigate through slides displayed on Bluetooth-enabled Mac computers.
USBFever: We're always looking for easy, portable ways to extend the battery life of our iOS devices. USBFever's $38 Super High Portable Battery fits the bill. This dock-connector battery pack lets you charge your iPhone, iPad, or iPod. It's also compatible with Samsung's Galaxy Tab, but if you're reading this, you probably won't need it for that. The device comes in black or white.
iPad (third generation) family