Accessory vendor Logitech on Wednesday announced the Wireless Solar Keyboard K760 for Mac, iPad or iPhone, the company's follow-up to the popular Wireless Solar Keyboard K750 for Mac ( ).
Like the K750 and the recently announced Solar Keyboard Folio for iPad, the K760 is powered entirely by ambient light. According to Logitech, the keyboard can charge from standard indoor lighting, and a full charge provides enough power for three months of use at eight hours per day. As with the K750, the K760's environmental bonafides also include PVC-free construction.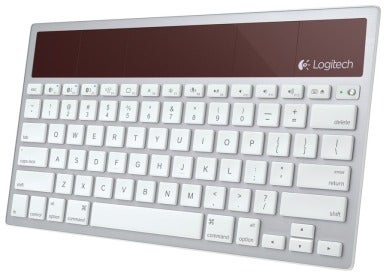 The low-profile K760 looks much like the K750 with one major exception: Like Apple's Wireless Keyboard, the new Logitech offering foregoes a dedicated numeric keypad, as well as full-size arrow keys and fn, Home, End, Forward Delete, Page Up, and Page Down keys, in favor of a compact design. (Unlike Apple's Bluetooth keyboard, the K760 includes an On/Off switch that doesn't turn on the keyboard at the slightest bump.)

But for people with multiple Macs and iOS devices, the best feature of the K760 is likely the fact that it can pair with three devices simultaneously. Even better, you can use the F1, F2, and F3 keys to quickly choose which of those three devices is actively connected to the keyboard. The function-key row also includes Apple-style special functions: Mission Control, iOS Home, brightness down and up, play/pause, mute, volume down and up, and a key that serves as eject when controlling a Mac and keyboard-toggle when controlling an iOS device.
The K760 will be available in the U.S. and Europe in June 2012. Logitech's suggested retail price will be $80.
Updated 5/30/2012, 11:43am, to clarify confusing phrase about Apple's Wireless Keyboard.