I've reviewed a few apps for keeping an eye on your drives' free space and for making it easier to access and eject volumes; I've grown particularly fond of FreeSpace. I recently came across CleanMyDrive ( Mac App Store link), and while it doesn't offer all of FreeSpace's functionality, it has a unique feature of its own.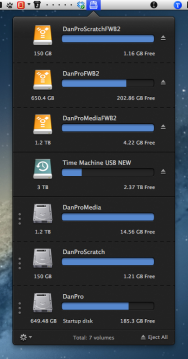 Like FreeSpace, CleanMyDrive sits in your menu bar. Click its icon, and you see a menu listing all mounted volumes: internal drives, external disks, optical discs, disk images, and network shares. Large icons make it easy to identify internal drives versus FireWire drives versus USB drives, and so on. Next to each volume's icon are the volume's name, a graphical representation of how much space you're using, and a numerical tally of remaining free space.
For each non-internal volume, you also get an eject button that lets you quickly unmount the volume; an Eject All button lets you unmount everything but internal drives with a single click. Hidden behind the menu's gear icon is a handy Eject All DMGs command, which ejects just mounted disk images. Clicking any volume's icon opens that volume in a new Finder window, making it easy to access drives.
These features make CleanMyDrive useful for quickly accessing and ejecting volumes. But CleanMyDrive's flagship feature is that it can automatically delete, whenever you unmount an external volume or a disk image, unnecessary files that clutter the volume when it's mounted on other computer platforms: .DS_Store, .Spotlight, Thumbs.db, resource forks, and other OS-added metadata. CleanMyDrive will also empty the volume's Trash when you eject the volume.

To enable this feature for a particular drive, just click the set of three gray dots next to the volume's icon, and then move the slider to Yes—now whenever you eject that volume, CleanMyDrive tidies up and then unmounts it. (The little dots turn green for any volume configured for cleaning.) CleanMyDrive also displays a status message beneath each volume indicating how much "junk" the volume contains, and the graphical representation of the volume's usage is divided into real data (blue) and junk (red).
A useful option in CleanMyDrive's preferences lets you force the app to ignore (meaning to hide the option to clean) volumes larger than a particular size. For example, I never want CleanMyDrive to delete metadata from my internal or external hard drives—I want the feature active only for thumb drives and disk images—so I've configured CleanMyDrive to ignore volumes larger than 64GB.
Unfortunately, CleanMyDrive doesn't work with internal drives. For that, you'll need the developer's paid app CleanMyMac. (Confusingly, the app displays the three gray dots next to internal volumes, but clicking them simply displays an advertisement for CleanMyMac.) For data-safety reasons, CleanMyDrive also won't clean Time Machine volumes. But it's a nifty utility both for people who want an easier way to manage drives, and for those who frequently swap drives with users of other platforms.