Doxo continued its push toward paperless productivity Wednesday by giving users of its mobile app the ability to pay their bills directly from their smartphone.
Users of the Doxo Mobile app—which first hit the iOS App Store nearly a year ago—already could assess bills from their mobile device that had been sent to and stored on Doxo's online storage service. But the newly unveiled doxoPay feature lets users schedule and pay bills from their iPhone.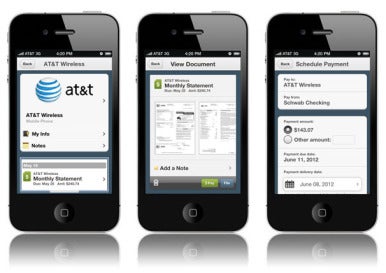 Doxo quietly added the doxoPay feature to its iPhone app with the version 1.6.3 update released in late April. The company wanted to work out any kinks with mobile bill paying before publicly announcing the feature. Also, Wednesday's announcement coincides with the release of a Doxo Mobile app for Android, which also offers the doxoPay service.
In announcing the new doxoPay feature, Doxo CEO Steve Shivers noted that his company looks to simplify the process of interacting with service providers and paying bills. Doxo says its users pay their bills an average of ten days sooner than they would if they were mailing in payments.
"Doxo Mobile takes the hassle out of bill payment, and provides an innovative, free service for businesses to offer to their customers, without having to develop their own app," Shivers said in a Wednesday release unveiling doxoPay.
With Doxo, all of your account information, notes, and records are stored locally and in the cloud via Box.com or Dropbox, which serves as a digital file cabinet. You can also back-up other important documents, such as deeds and insurance policies, to the cloud. A growing number of service providers have already joined doxoPay, including AT&T, Sprint, various utilities, and a list of banks. (Doxo lists some of its providers on its website.)
Doxo Mobile is a free download. The Doxo service is free as well.