Speaking at the All Things D conference on Tuesday night, Apple CEO Tim Cook essentially sent Facebook a friend request. "I think the [Apple-Facebook] relationship is very solid," Cook said. "We have great respect for them. I think we can do more with them."
But here's the part of Cook's comments that should be of particular interest to iOS device owners—and maybe even Mac users as well. "Anyone with iPhone or iPad wants to have the best experience with Facebook on any device," Cook continued. "So stay tuned."
iOS users have been staying tuned for some time now. It wasn't until iOS 5, released in October 2011, that iOS saw systemwide social integration—and that, of course, was with Twitter. Twitter is big and growing, but it is dwarfed by Facebook's massive magnitude; Mark Zuckerberg's social network is set to cross the one billion active users milestone by year's end. That's an awful lot of people.
What Facebook integration on iOS might look like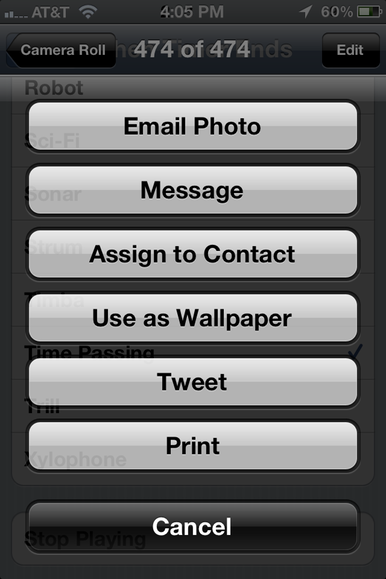 We have a head-start at imagining Facebook integration on iOS. Nearly everywhere that iOS 5 currently offers ties into Twitter, Facebook integration would work just as well—if not better.
The most prominent place where iOS could benefit from direct Facebook connections is the Camera app. Snapping a photo and then posting it to Facebook marks one spot where the iPhone is repeatedly smoked by Windows Phone—mostly because Windows Phone offers the ability to share photos to Facebook with a single tap.
Numerous other stock apps on iOS leverage your Twitter account, if you provide one (or more) in Settings: Safari, Phone, Contacts, Photos, Maps, and YouTube. Adding in Facebook integration points in those places to quickly share URLs, pictures, locations, videos, and the like makes good sense.
Facebook integration could help in other ways, too. iOS makes your Twitter login credentials available to other apps. That allows you to connect those apps with your Twitter account without needing to log in a second time, or trust another third party with your username and password. Today, many apps offer Facebook integration, but each app rolls its own: To authorize a given app to access your Facebook account, you either get tossed out to the Facebook app (if you've got it installed) or Safari, and then sent back to the original app again once you've given approval. Systemwide Facebook integration could make that process quicker and simpler.
Apple even uses Twitter to update your contacts' details. That's borderline comical, since Twitter isn't exactly the place folks go to ensure their contact information is up-to-date. Linking contacts with Facebook—so that iOS could grab your friends' self-provided phone numbers, email addresses, and photos—and update their records accordingly could prove especially useful. In theory, the Contacts app should be able to pull in your friends' birthdays from Facebook, too. Think how much more appreciative your contacts will be if you (seemingly unprompted) wish them a happy birthday via iMessage, instead of merely writing a post on their Wall at Facebook's direct urging.
Facebook and Mountain Lion
When it unveiled Mountain Lion, the next version of OS X, Apple announced that the operating system would include systemwide Twitter integration, just like iOS. But—again just like iOS—there's no Facebook option. Integrating Facebook into the Mac OS seems like a no-brainer, too.
Some Apple desktop apps already integrate with Facebook quite nicely—particularly iPhoto, which can sync complete albums or individual photos to the social network.
Facebook integration on the Mac side could mirror the expected iOS integration in several ways. Perhaps the primary benefit would be offering quick access to sharing photos from anywhere on your Mac, and easily sharing URLs from Safari. And an option to update your contacts' details with their Facebook information would make as much sense on the Mac as it would on iOS.
What's taking so long?
Facebook makes one of iOS's most downloaded free apps and offers several other well-received apps, too. Apple's own efforts at social networking—like Ping—have faired rather poorly, as Cook acknowledged at the same All Things D presentation where he described Apple's relationship with Facebook.
Ping (somewhat) famously launched with Facebook integration, and shed that functionality mere hours later. Steve Jobs cited Facebook's "onerous terms" as the cause of that rapid separation.
But Cook struck quite a different tone onstage this week, and Facebook's track record on privacy is—slowly—improving. While Facebook has failed, publicly and repeatedly, to make user privacy a paramount concern, things do seem to be improving.
While Twitter has but two privacy settings—either everyone can see the content you post, or only those you allow to follow you can—Facebook's options can get considerably more complex: You can adjust who can see what content on a post by post, status by status, photo by photo basis. It wouldn't be too out of character for Apple to offer Gatekeeper-style protections for social sharers on the Mac or iOS. Where Gatekeeper might warn you before you run an app you downloaded from the Internet, DignityKeeper might warn you about who could see that photo you're about to share: "Based on your Facebook settings, this photograph will be visible to anyone on the Internet."
That said, users don't want to be babied, and Cook stated that Apple's users should expect the "best experience" possible for Facebook integration. That suggests that any Facebook integration to come to iOS or the Mac will be as seamless as the Twitter integration is already.
And Apple can easily, painlessly, leave the final participation with such a feature to its users. Just like iOS's Twitter integration is optional, so too will its Facebook integration surely be. Those who abhor the service needn't avail themselves of it.
The rest of us will stop worrying that our phones might get smoked.