Dropbox is the most widely used and simplest file-synchronization system worldwide not attached to a major technology company. Every machine on which you install Dropbox and use the same account has all the contents synchronized among them by default. Make a change on one machine in the Dropbox folder—remove a file, add one, reorganize items into folders, or save changes—and that change is instantly propagated to every other synced machine. That's the point of such services, and Dropbox consistently accomplishes this in a nearly invisible manner.
Install the software, and an anointed folder is the hub of Dropbox activity. The software offers support for desktop folder sync in Mac OS X, Windows, Linux, and allows mobile access for viewing and for uploading files, images, and video under Android, BlackBerry, and iOS platforms.
However, by keeping it minimal and avoiding a full-fledged client—it's just a menu with a few options—Dropbox requires heavy use of its Web interface for even basic tasks. That's a mild complaint, because the Web site works quite well, including allowing drag-and-drop copying from the Finder into the browser and dragging to organize items into folders. Still, better desktop integration would remove the remaining friction.
Sharing and collaboration
Beyond syncing across your computers and creating backup copies of your own files, Dropbox has several features that take storage and sync further. These include collaborative sharing with others, read-only sharing, accessing older versions of files, restoring deleted files, and uploading images from attached cameras and phones. A mobile app allows limited tools away from a desktop.
The collaborative sharing feature is one that brought me to Dropbox and keeps me there. Any folder may be shared with any other user (if they don't have an account, they can sign up at no cost and store at least 2GB). A shared folder is synced among all users who join it, until they remove themselves or the owner kicks them out. The contents of a shared folder count towards an account's quota. What's missing is the option to set read-only folders, something that could be tricky on the desktop (as it would involve setting file locks on particular users' files), but would aid in sharing material.
Dropbox recently upgraded a second form of sharing, which provides read-only links to individual files or entire folders. Any item may be selected (Control-click or right-click the file in the Finder and in the contextual menu select Dropbox -> Get Link, or click a link icon in the Web view), and a Web page opens with a custom link and a preview of the files. Dropbox can preview many common media and document formats. Files and folder contents can be downloaded, or copied to a recipient's Dropbox folder. Dropbox only allows folders to be copied as a whole to its directories; for download, items must be selected one at a time. Links can be revoked, but unlike the option at the nearly-gone iDisk and other services, you can't set an expiration date and time for a link, which seems like a mistake. (Dropbox previously had a limited, no-preview link option that this essentially replaces.)
Versioning
A powerful aspect of central, continuously updated storage for your files is versioning, or the storage of multiple renditions of the same file. Dropbox keeps an unlimited number of versions that you can use a somewhat clunky, if informative, Web interface to choose among. Each version shows the time and date, person who saved it (useful for shared folders), and the machine on which it was saved (the Bonjour name on a Mac). You can also choose to show deleted files, and restore them. Deleted files and older versions can be restored to the Desktop with just a few clicks, replacing the latest version or restoring the file to its last location.
Unfortunately, there's no useful way to see the quantity or types of changes between revisions, and you can't preview changed files, only download them. Dropbox could provide a better way to scroll through revisions, and even track the percentage changed. For text-based files and common productivity formats (like Word), it's conceivable it could provide an online difference viewer, too, given that such a feature is common in desktop software.
Dropbox doesn't count older versions (which are stored just as the differences between successive revisions saved) nor deleted files towards one's storage limit. For free accounts, Dropbox keeps deleted files for 30 days, as well as a version history going back that far. Paid individual accounts can choose to enable Pack Rat, which preserves all deleted files and versions. The business offering always uses the Pack Rat setting.
Syncing files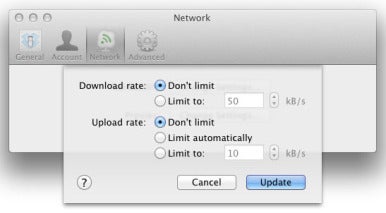 Like other syncing services, Dropbox tries to minimize network bandwidth use by examining files for differences between the current and most recently stored version. It breaks files into pieces and creates a kind of shorthand on your computer that it compares against the same shorthand stored remotely. Only changed sections are uploaded or downloaded.
Dropbox can identify files already synced on the same network, and copy such changes locally, which is a boon. (This can be disabled, too.) You can also opt set a hard limit for download and upload throughput, which can be throttled separately. Uploads can be automatically throttled, too, although the details aren't explained.
But these techniques only reduce bandwidth use or throttle throughput. Dropbox doesn't provide network awareness when you're on a network with either a low-bandwidth connection or a metered one, such as when you're using a mobile broadband USB adapter on a laptop or connecting using tethering via an iPhone, iPad, or cellular router. CrashPlan recently added a way to pick which Wi-Fi networks over which it should perform backups. Dropbox should add some smarts here to keep you from flooding other networks or burning up bandwidth charges. (There is a Pause option in the Dropbox menu, but that has to be chosen manually.)
Another way Dropbox tries to let you control use is via Selective Sync, a selection dialog in its preferences that allows the choice of which folders to include on a given machine. It's useful, but the interface provides too little sophistication. You can't choose to uncheck or check every folder's box. Dropbox doesn't allow preventing new folders from being added to the computer. Everything in the top level of the Dropbox folder is always synced, as well. Since this feature is already designed for advanced users, it could be reworked for better selection and even filtering.
Other features
Dropbox's free mobile app allows browsing all available files, and storing locally any file you choose. The app displays any natively-readable file types in iOS, like images, documents, video, and text, but can store other files to be transferred to other iOS apps via the Open In option. Dropbox is also a target in iOS apps Open In menu to accept and upload files. The app has the direct ability to upload images and video.
A recent update to Dropbox added camera uploads via USB, whether from a camera connected via USB, an iOS device, or a memory card in a card reader. Dropbox can be set to import new images automatically, which is useful, but might be excessive if you don't want every photo you ever take stored and then having to later cull them. But it also provides a hands-free automatic backup just by plugging in.
Dropbox has a relatively strong security model in protecting data in transit and in storage, using strong encryption between its desktop client and its servers and then encrypting that data on its systems. However, you don't control any of that encryption, and Dropbox has access to all the files you store that aren't layered with an additional form of encryption. That is problematic should a government demand your files (Dropbox might refuse some kinds of requests, but can be compelled in some cases) or a civil lawsuit requires Dropbox to provide files under subpoena (see its privacy policies for more).
Only one directly competing service, SpiderOak, creates keys in its client software and retains no ability to decrypt any user data (or even file names) on its servers. (We'll be reviewing SpiderOak soon.) CrashPlan ( ), a backup service, also has an option for user-owned and even user-created encryption keys.
Dropbox has a business reason to avoid this. The firm de-deduplicates files, meaning that it stores a single copy of a file across all its servers (plus backups, obviously) even if a million users have a copy in their individual Dropbox folder. De-deduplication can't work when files are encrypted, as all files appear as unique data.
Service comes in individual and business plans. A free account includes 2GB of storage, but Dropbox adds 500MB the first time you upload media from a camera, and expands that up to 3GB as you continue add images and video. You can also get 500MB added for each new person you refer to sign up, even for free accounts, to a maximum combined total of 18GB. Paid service is $10 per month for 50GB and $20 per month for 100GB, with discounts for prepaying for a year. Paid accounts can add up to 32GB through referrals, but not image uploads. Paid service, called Dropbox for Teams, starts at $795 per year for five users and 1TB of combined storage.
Macworld's buying advice
Dropbox was an early offering in the sync field, was reportedly under consider for purchase by Apple (the founders say they declined), and remains a strong and constantly evolving service. Its weakest feature at present is the small amount of free storage available without uploading images compared to Google Drive (5GB) and Microsoft SkyDrive (7GB).
The company needs to consider a lightweight but more extensive interface on the desktop to remove the friction of using Web apps for basic features, providing user-controlled encryption, and improving bandwidth use by venue. Those quibbles aside, you can rely on Dropbox to deliver the simplicity of always having files up to date everywhere.
[Glenn Fleishman, a senior contributor to Macworld, writes about technology and culture at the Economist's Babbage blog, and appears regularly on public radio programs.]