[Ask the iTunes Guy is a regular column in which we answer your questions on everything iTunes related. If there's something you'd like to know, send an email to the iTunes Guy for consideration.]
This installment is a bit of a grab bag. I look at a number of questions that have come up frequently dealing with metadata, sorting, and sharing.
Q: I ripped many CDs into iTunes and changed the genre to categorize my music in different ways. I now would like to be able to select a given album in iTunes and somehow reset the genre to the default information from Gracenote. Is there an easy to do this?
You can manually change the genre of any album. Select all the tracks, press Command-I, then type a new genre in the Genre field at the bottom of the window.
If you haven't made other changes to metadata—song names, album names, and so on—you can select any number of items then choose Advanced -> Get Track Names. This will re-populate all of the metadata fields with Gracenote's information. But keep in mind that any changes you made to the original metadata will be replaced. (Also note that this function only works with CDs ripped using iTunes.)
Q: I was ripping a classical disc in iTunes and I was offered a choice of metadata in both English and Japanese. Unfortunately, I managed to select the wrong one (well wrong for me) and despite several efforts whenever I try to reload that particular CD I get the Japanese titles. How can i get back to the selection menu again?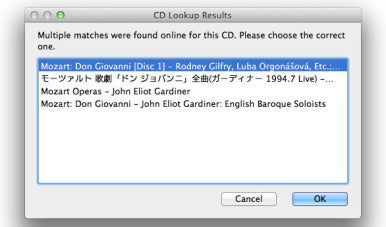 If the CD is in your computer, select it, then choose Advanced -> Get Track Names, as described in the previous question. You'll see the same dialog offering you to choose the metadata you want. However, if, for some reason, there is only one entry for that disc—if one has been deleted by Gracenote—you won't get a choice, and the metadata will be changed without warning.
Q: I'd like to have my albums ordered chronologically by artist. Currently I can have everything by date, or by artist, but I'd like to have, say, all my Rolling Stones albums grouped together but in order of release. Is this possible?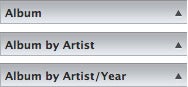 Yes, the Album column header gives you a number of options. Click it to toggle among Album, Album By Artist, and Album By Artist/Year. I use the last setting, which sorts by artist first, then, within each artist, by year, for the same reason you mention.
Q: When I'm in iTunes and I'm looking at my music sorted by album, quite often the tracks will show up in reverse order. Is there a way to fix this?
The same Album column header has a tiny arrow at the right (see the screen shot above). Just click on this arrow to change the sort direction.
Q: Is there a way to permanently change the genre classification of Internet radio stations? I have changed the genre tag of a handful of stations, but every time I select one of them to play, the genre automatically changes back to the original.
Unlike files in your library, the metadata for Internet radio stations is updated each time you load a station. So you can't change any of this information; only the radio station itself can change its metadata.
If you want to group radio stations, however, you could put them in playlists. Make a playlist for each of the genres you want to use, then drag your favorite stations to them. You can then play them from these playlists.
Q: I oversee a student-run radio station, with iTunes as the source for music. We want to add songs and update metadata remotely because the Mac we use sits in our studio. However, most of the time we have someone in the studio and can't just take over the Mac while they are trying to run their show. How can we add files and change metadata of existing music in this iTunes library?
If you can't get direct access to the computer with iTunes, you can't change metadata of existing music. For new music, however, you can change the metadata on other computers, in local copies of iTunes. If you can access the other computer's user account over a network, go to the Music -> iTunes -> iTunes Media -> Automatically Add To iTunes folder. Copy the new files into this folder, and they will be added to iTunes.
Note that this won't work with an alias of the folder, and there seem to be some issues if iTunes Match is turned on.
[Senior contributor Kirk McElhearn writes about more than just Macs on his blog Kirkville. Twitter: @mcelhearn Kirk is the author of Take Control of iTunes 10: The FAQ, second edition].