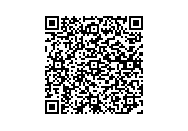 QR codes are being used for more than just advertisements in Marin County, California. There, paramedics hope the stickers could help save lives in emergency situations.
Lifesquare, a Silicon Valley start-up, has partnered with two emergency response agencies in Marin County to run a year-long pilot program. Lifesquare wants residents to input personal information about their medications into its website, then place corresponding QR code stickers where emergency responders can scan them with an iPhone. The secure link from the sticker will then provide paramedics and firefighters with information they need during a medical response call.
Lifesquare said its first task will be to get people to sign up on the site because of privacy concerns.
"The way that we look at is that people already put their information into their driver's license, that's owned by the government, people put their information into credit card company's and that's owned by private corporations," said Ryan Chamberlain, director of public outreach at Lifesquare. "Here you own it, you put it into your own profile and nobody else touches it."
Here's a video of Lifesquare promoting the QR code stickers in Marin County:
Residents can sign themselves up by picking up Lifesquare stickers at a CVS pharmacy. Ideally, Marin County emergency medical responders could then respond to a call about someone feeling sick, scan a QR code on the patient's bike helmet, for example, and learn whether or not the patient has a drug allergy or what medications they are taking.
"It could benefit so many folks," said Mike Giannini, Marin County Fire Department EMS Battalion Chief. "The consumer for the piece of mind, us for information at the scene, it's just a time-saving piece and beyond that it could do so much for health care at a much larger, grander scale if physicians embrace it."
Giannini said Lifesquare would improve on the idea he helped champion in Marin County about seven years ago, when the department started promoting "Vials of L.I.F.E," which were tubes people could place in their refrigerator with a list of medications they take inside. Paramedics in the county already know to check refrigerators for this information, but still must enter it by hand, then later enter the same information into a computer.
He believes Lifesquare will take the Vial of L.I.F.E. concept into the digital age. And besides, he said, people are not always home when they need an ambulance.
Emergency medical workers in Marin County will access the information with the roughly 50 iPhones Lifesquare bought for the county.
Lifesquare said other counties in the Bay area are interested in the concept, as well as a few others, but it is focusing on promoting the Marin County pilot right now.
To augment the digital information Lifesquare can capture, Giannini said the county plans to purchase a new electronic patient care record that is being designed to work with Lifesquare's software. That way, information gathered from stickers at patient's homes would not need to be re-entered.
"It will improve our operations from a time standpoint, making us that much more available for the next call," Giannini said.
The electronic system should be in place by the end of 2012.
Kerry Davis is a multimedia journalist for IDG News Service. Email her at kerry_davis@idg.com or find her on Twitter at mskerryd.