Type on PDF and its more expensive counterpart, Type on PDF Pro, are powerful apps that provide a number of sophisticated tools for both using and creating Acrobat files. Both enable you to simply fill in or annotate already-existing PDF documents. But what sets Type on PDF apart from similar apps is the inclusion of a simple programming language that enables you to create custom PDF templates which can restrict the types of information that are put into form fields and also perform simple calculations.
Type on PDF and Type on PDF Pro run on the iPhone as well as the iPad, and the iPhone/iPod touch versions provide all of the functionality as the iPad versions. But as expected, it is awkward to use the apps on iOS devices with smaller screens, simply because of the limited screen real estate. For that reason, it makes sense to pay more attention to the experience of using Type on PDF on the iPad, while simply acknowledging that being able to use the apps on the iPhone is handy, and also that they function very well on that platform.
Both of the apps have many of the same capabilities, which will be discussed first; later in the review, some of the tasks only supported in the Pro version will be highlighted.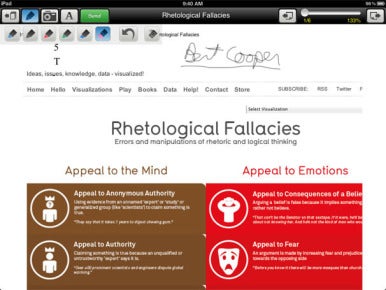 Both Type on PDF and its Pro version have significant shortcomings, and two are apparent immediately upon launching the apps: Neither one allows you to directly import files from cloud sharing services such as Dropbox, Box.net, and Google Docs. The only way to use an already existing file in the apps is to go to another app— GoodReader, for example—select the file you want to use in Type on PDF, and select the "Open In …" option from that app's menu. Often (but not always), Type on PDF will be one of the apps listed, and you select it and the document appears in your Type on PDF library. Similarly, you can only export a Type on PDF file via email or by opening it in another app—you cannot save it directly to Dropbox or another site.
Once your document is in Type on PDF, annotation options are limited, compared to other PDF reading and notation apps for the iPad, both free and paid. Freehand annotation tools are limited to pens of four different colors and a blue highlighter. Neither the pens nor the highlighter are of adjustable width. "Typewriter Mode," which enables you to insert typed comments in the document, provides users with one black serif font; you can adjust type size, but not style—no italics, bold, or underlining, for example. And while you can create a new PDF based on an image inserted from your photo library or clipboard, the only way to import a PDF from the Web is by finding and copying the URL of a PDF file from your browser (and the URL must end in ".pdf"), going back to Type to PDF, and then selecting "New" from the files menu and choosing to create a new document from the clipboard link.
In other words, just getting going with the app is an awkward process, and needlessly so.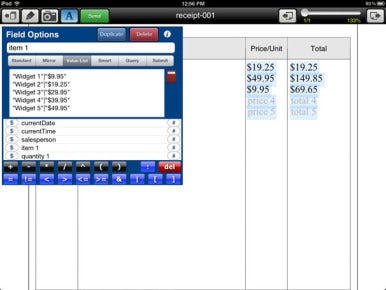 While these drawbacks are not minor, many users, particularly businesses, may find both Type on PDF and Type on PDF Pro useful, and that is because both enable you to create form templates. The Pro version enables you to place limits on the type of data that can be entered into each field (text, numbers, symbols, etc.), and enables you to create Excel-like formulas that can automatically perform calculations. With the Pro version, entered data can be sent directly to a server. With both versions, the completed, filled-in PDF can be emailed or opened in other iOS apps that can read or accept PDF files. This means that it is possible to export documents to Dropbox—if you have the Dropbox app installed.
For users who are looking for an app which allows them to read and annotate PDFs and fill in forms but not much else, both versions of Type on PDF lack many easy-to-use tools and features available in many other iOS apps designed for the same purpose, while adding complexity.
But each version has capabilities that can serve businesses well. They are also appropriate for businesses simply because of the time it takes to set up forms and form fields properly. The Pro version can be especially complex and time-consuming if difficult formulas are necessary, and connecting to a server is potentially a time-consuming task as well.
One final note: Tipirneni Software does provide a "Field Options Guide," in PDF format, for the Pro version. However, the rest of the "documentation" consists of an 18-minute demo video for Type on PDF, and a 68-minute demo video for the Pro version. No other documentation is available.
The demo videos may have been the easiest way for the developer to explain the app, and they are useful. But they also have significant drawbacks. Unlike text documentation, the videos are not searchable. Unlike text documentation, it is difficult, at best, to highlight sections that are especially important and/or complex, for easy review and retrieval. While app demo videos are increasingly common, and often suffice for simple apps, video is a poor substitute for text when apps are more complex.
[Jeff Merron is a freelance writer and editor living in North Carolina.]