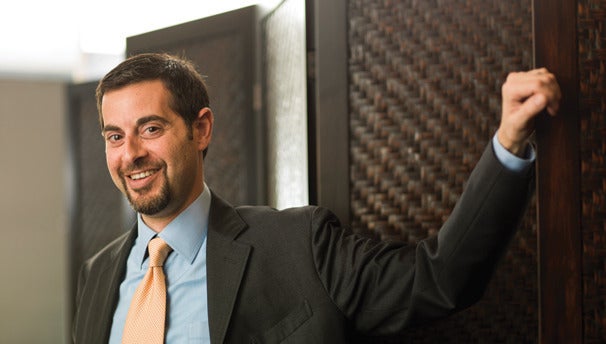 Robert Corrao has seven different Macs, an Apple TV, and of course an iPhone and an iPad to carry with him wherever he goes. The chief operating officer at LAC Group, a professional services company in Los Angeles, doesn't mind loading himself down with technology, but he's not always a fan of what it brings: Email, and plenty of it. He estimates he receives 500 emails a day—and that the average inbox in his organization contains 5000 emails. It's all too much, and too little of it is important.
"It kills me," he said. "Just deleting—not even reading—that still takes a good chunk of the day."
So Corrao is leading his company on an effort to get rid of email—not the individual pieces that clutter up the inboxes, but email itself. LAC Group spent recent months experimenting with alternative ways of communicating and sharing information, testing everything from public social networks like Google+ to project management software like 37signals' Basecamp to private networks like Salesforce's Chatter.com.
"My pet project for the next year is to get us away [from email]," he said. "I think email is so archaic. It's the bane of my existence."
Corrao isn't alone. The French company Atos made headlines last year when it completely banned internal emails. And the next generation of workers is proving email averse: The Pew Research Center reported in March that 63 percent of teens exchange text messages every day while just 6 percent exchanged email on a daily basis.
But is it really possible to do without email? To find out, Macworld surveyed Apple-savvy businesses and workers who have dramatically curtailed—or completely stopped—their use of this ubiquitous technology. To avoid overload, focus productivity, and even create a sort of virtual water cooler for employees, the trail-blazers have moved to a mix of video, chat, and social networking. Some solutions are imposed from the top; others grow up from the grass roots. And some wouldn't exist without the possibilities created in recent years by the iPhone and iPad. Here's how these businesses are making it happen.
Creating new tools from scratch
Some companies have become less reliant on email by creating their own systems—heavily reliant on social networking features—to make sure the right people get the right information at the right time.
A set of sensors Long before most people knew the words "Facebook" or "Twitter"—or, for that matter, "iPad"—the Canadian digital marketing firm Klick Health was already trying to figure a way to ease back on workers' email burdens.
"We think there's better ways to organize work, and more powerful ways to get information to people," said Klick CEO Leerom Segal. He pointed to Facebook as an example for ideal communication—a tool that lets users engage in conversations, but that also uses data generated by those conversations to point those users at other information they might find useful.
So eight years ago, Klick created Genome, an intranet system that combines social networking with old-fashioned task management software. Genome's homepage features a Twitter-style column of short posts from Klick employees on the right side; financial reports and other business data are lined up on the left. In the main, middle part of the page, Klick employees can start "tickets" that guide a project from origin to completion. Every employee has an iPad, and can use the tablet to check Genome from home or during out-of-office meetings for the latest information.
Genome's most significant attribute, Segal said, is that it is smart. If a Klick employee starts a particular task for the first time, Genome will recommend contacting other employees with experience related to the task, as well as offer a checklist or a library of resources for the worker to draw upon. If a project seems stuck—with a pair of Klick employees engaged in endless communication about it—Genome "notices" and can alert managers to intervene.
"It's like a set of sensors," Segal said. "It's finding those precise teachable moments when we can coach people."
Segal said that Klick works hard to ensure Genome-overload doesn't replace email overload with overload of a different kind. That requires resources to keep the system evolving: The company has a team of ten people to build and develop Genome. But Klick isn't afraid to drop features from the system if they prove counterproductive.
"We call it 'digital Darwinism,'" he said. "Unless it saves people time, it's not worth it."
Timely beauty tips Klick uses Genome to connect employees to each other. Seva—a beauty chain that operates within Walmart stores in nine states—takes a different approach. It uses the iPad 2 as the foundation for a system that combines a customer database with instant messaging and FaceTime video. This lets store managers track stylist activities and keep an eye on what's happening in the salons.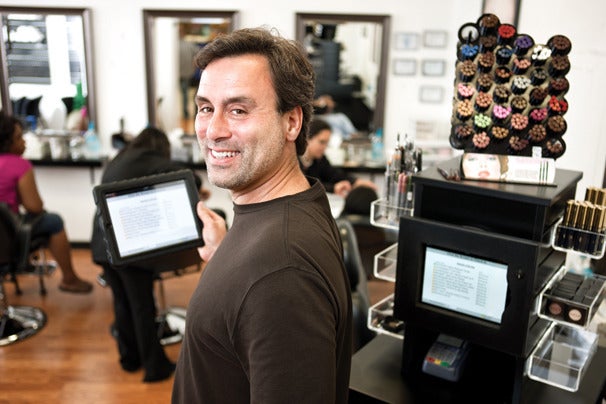 Before the iPad's launch, workers for the then-tiny company communicated via personal email. As Seva began to expand with franchise locations, though, executives decided they wanted to centralize all the communication—between the store and its customers, between managers and workers, and between headquarters and the franchises. They wanted that information to flow more quickly than email allows.
"We needed something that was very robust," said Seva founder Vas Maniatis, "but that would allow us to have real-time information, both at the store level and at the remote level."
Each store has at least two iPads. One is used to sign-in customers when they enter the salon; if the salon is busy at the moment, the customer can shop in Walmart—a text message will be sent from the iPad to the person's cellphone when a spot opens up. Store managers, if they're working remotely, can watch their employees via FaceTime—and use Seva's system to send instant messages to employees if they need help.
"The franchisee can communicate with the store, can monitor and audit the store, and can view the transactions with customers in real time," Maniatis said.
Instead of sending emails back and forth between the store and central office, the new system allows managers to directly monitor employees and provide immediate feedback. In one case, he said, Seva officials in Chicago noticed that a new Maryland store was underperforming—with fewer repeat visits by customers than comparable stores. Using the iPad's FaceTime program, home office officials watched each employee perform salon techniques—and immediately gave feedback to get the store back on track.
"It happened impromptu, right then and there," he said. "We were able, from Chicago, to evaluate their skills in real time—using nothing more than a desktop computer and an iPad."
Email simply doesn't offer executives the same opportunity to directly monitor and guide Seva stores, he said. The company now uses email almost exclusively to remind customers that it's time for a new appointment. And as a side benefit: Employees don't get distracted checking email when they should be attending other tasks.
Social media to the rescue
While some companies are building their own tools, others are discovering new off-the-shelf technologies for managing their internal communications.
Channeling chattiness The Web-based Socialtext, for example, starts at $5000 a year for 50 users, though Socialtext tells prospective buyers that it is "scalable" according to company size. The platform can also be modified—somewhat like a WordPress blog—with a "theming editor" that allows individual companies to configure the system with company logos and colors.
The Motley Fool, the financial services company, calls its themed version of Socialtext "Jingle." The left column features business Intranet mainstays like information about company benefits; a middle column hosts Facebook-style posts from company employees; the right column features videos and "important news" designated by company management.
The Motley Fool implemented Jingle, executives said, because email had become too much of a digital water cooler—with company-wide emails about birthdays and after-hours gatherings, for example, cluttering inboxes of people who didn't want or need the information.
The senior leadership finally decided the company needed a change, said Jeb Bishop, The Motley Fool's VP of creative services. "They were annoyed at separating the wheat from the chaff. We're kind of a chatty company."
Jingle helps prevent such email overload by letting employees sort themselves into "affinity groups" similar to Facebook groups that let users organize themselves around (and communicate about) areas of common interest. Some of those groups can seem frivolous—knitters, for example, have their own affinity group within Jingle, as do dog owners—but company officials feel having that official informal outlet can enhance creativity and productivity.
And, they add, anybody who gets stuck on a problem can post to Jingle, seeking advice from the entire company for a solution. That's smoothed the internal flow of business-critical information and helped with problem solving.
"We've reduced noisy email by 75 percent," Bishop said. "Anybody can ask everyone at anytime for input or insights into a problem or challenge. It's more efficient and less chaotic [than a face-to-face meeting]."
Finding answers fast When employees aren't willing to wait for their company to put together a social network, a number of sites let them take matters into their own hands. Yammer is one such offering. In some ways, it's not too different from Socialtext's product, but doesn't require company intervention. Instead, employees sign up for the free service. They must provide an email with a company domain name—and then can interact only with other Yammer users who have the same company email domain. (This is much like the early days of Facebook, in which only college students could use the service, and often to communicate only with other students at the same university.)
When enough employees sign up, Yammer CEO David Sacks said, those companies often pay to administer and support the service. More than 20 percent of Yammer's 4 million users now have paid support, he said. (The basic business account starts at $5 per user per month.) Sacks said Yammer's social networking aspect makes it easier for workers to seek out information.
"With email you have to know who you're emailing. Yammer allows you to post your question, and people can discover it and answer, or refer it to the person who can," Sacks said. "There's nothing discoverable about email. It's either addressed to you or not."
That can be particularly useful in big or far-flung organizations. Jill Thompson is a teacher with North Carolina's Charlotte-Mecklenberg school district, which has more than 100 schools. She's part of Yammer groups for math teachers, instructional technology, book clubs and more—and often checks Yammer from her iPad at home.
"It's made me much more aware of what's going on in the district," Thompson said. "Email is a two-way conversation, whereas here I'm talking to and hearing lots of teachers."
Ram Singh is CEO of Afiniate, a small financial information company. He is based in Washington D.C., but his employees are spread across the United States and Europe. Yammer's social intranet, he said, is critical to his company.
"Email's good for certain things. Twitter's good for certain things. We use Skype (messaging) quite a bit," Singh said. "But when it comes time to maintain an agenda, an authoritative source of information, email's terrible. And Yammer's really good."
Putting it together, piece by piece
Aditya Johri, an assistant professor at Virginia Tech, studies companies using alternatives to email. In the end, he thinks companies will be slow to replace it altogether. Email is still the best way to document a company's internal communications—an important feature for companies facing legal liability issues. "I won't say companies are leaving email," he said, "but they are changing their dependency on email."
In many cases, the solution is to simply stop using email for everything. Seva's Maniatis, for example, uses Fuze Box's Fuze Meeting to conduct remote meetings and Dropbox to send big documents and other info to franchisees. Instead of passing versions of a document back and forth by email, some companies use Google Docs to collaborate and make corrections to documents in real time. Likewise, it's possible to banish the endless emails coordinating meetings times with a group by using a free tool like Doodle for scheduling. Paid offerings such 37Signal's Campfire can simplify internal messaging by letting you organize company chat rooms. And most of these tools are even accessible from iOS devices.
"Firms are using Wikis, Blogs, and now microblogging services," Johri said. In most cases, the task drives the tool choice.
Back in Los Angeles, Robert Corrao is still searching for one solution to rule them all. He'd love to see Apple, as it increasingly moves into the enterprise market, develop its own product. He points to Microsoft's Lyncwhich offers two features he says are essential—security and the ability to archive communications—wrapped around instant messages, chats, video conferences, and, yes, email. "Nobody has the secret sauce right now," he said.
At other companies that have moved ahead, however, there is near-giddiness at having reshaped internal communication. There are fewer messages to burden workers, and what remains is often more meaningful to the task at hand. "It's almost beyond communication," said Seva's Maniatis. "It's pure interaction."
And that, executives say, can help workers be better, fresher, and more focused.
"This has helped us thin out the 'too much,'" The Motley Fool's Bishop said of replacing email with Jingle. "There are significantly fewer all-company emails that come out. That's mostly been moved out." He added: "Productivity has been enhanced."