Cable sports giant ESPN offers a mobile app that lets you watch live sports and shows on your iPhone or iPad no matter where you happen to be. The app is called WatchESPN. And I would certainly love to, if I could get the app to dependably stream video.
WatchESPN has been available on the App Store for more than a year now, though the app originally was limited to select cable providers. When ESPN added Comcast to the ESPNWatch fold earlier this year, I finally got the chance to sample the app and its streaming options—not just the ESPN, ESPN2, and ESPNU cable channels but also sports being shown on the company's ESPN3 online channel. (An updated list of cable providers that support WatchESPN is available on the app's App Store page.)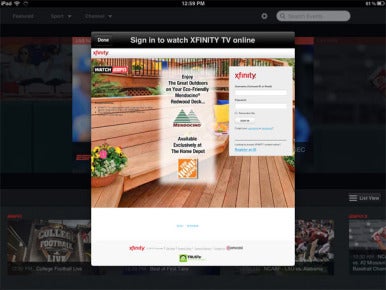 Getting started with WatchESPN is an uncomplicated process. You choose your cable provider from the list displayed in the app. The sign-in procedure may vary from there, but if you're a Comcast customer like me, you sign in using your Comcast ID from within the app. I was even able to retrieve my forgotten password from within WatchESPN. And I can remain logged in, so that I only have to sign in initially.
From there, you jump to a screen listing all the programs currently available for live streaming. Both the iPad and iPhone versions of WatchESPN have a carousel displaying featured programing, along with a scrollable list; the iPad uses its extra screen real estate to offer some different views of content.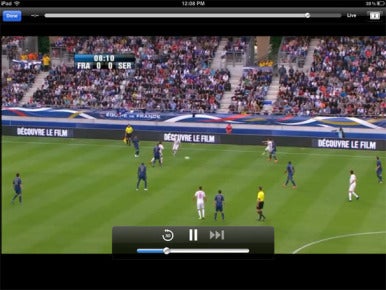 It's once you tap on an event or show in the list that the magic—or disappointment—begins. After a short wait, the stream of your program begins playing. Whether or not it will continue playing, however, can be a hit or miss affair. I've put the app through its paces for the past week, and I can't claim to have gotten a consistent experience. At its best, WatchESPN will continuously pipe live sports action to your iPhone or iPad, with the occasional buffering hiccup. And at its worst? The app will lose the stream entirely, bouncing you back to the list of available programs. Sometimes in my testing, the picture would freeze and then speed up to catch up with the live stream; other times, I'd lose the video entirely (though the audio would continue to play), with no apparent way to bring it back.
This isn't necessarily ESPN's fault. Its app is at the mercy of whatever network you happen to be connected to, and if you're out and about, that can change as rapidly as the momentum in a Stanley Cup playoff game.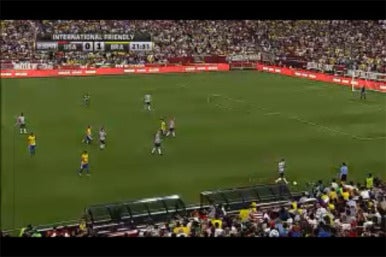 I had my best success with the app when I stayed in one place with a strong Wi-Fi or 3G signal—I was able to watch a France-Serbia soccer friendly or the latest episode of SportsCenter without any show-stopping problems. Unfortunately, that doesn't really mirror the most likely use case for WatchESPN: You're likely to use the app when you're on the go. I tried watching a baseball game on my evening commute ride home on public transit, for example, and would lose the feed anytime my ride hit an area where AT&T's network coverage was less than optimal. Again, ESPN can't do much about that, but when all I want to do is check in on a baseball game and I can't, I don't really care whether the app or my wireless carrier is at fault.
To ESPN's credit, it does a good job with the things that are in its control. Besides the smooth login process, WatchESPN does make it very easy to find programming to watch, whether it's live events or replays of already-completed games. The app also offers multiple ways to search for upcoming events by sport or channel. That said, the app only offers a list of upcoming events—it would be nice if I could set a reminder that the app will be streaming next week's Poland-Greece European Championships opener rather than having to rely on my dodgy memory.
An app like WatchESPN exists so that rabid sports fans like myself can take comfort in the knowledge that a must-see game is only just a few taps away. For that app to be a success, I need to know that if I happen to be away from my TV when some athlete somewhere is doing something amazing, all I have to do is take out my iPhone, fire up WatchESPN, and enjoy the sweet relief of live video. The app can't do that dependably—not at this point, at any rate. It's worth having on your iOS device as an option for viewing live sports, but you need to be ready to live with WatchESPN's current limitations.
[Philip Michaels is Macworld.com's editor. He enjoys watching sports because of his dull interior life.]