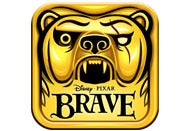 In the past, Disney Mobile, the mobile gaming and app division of Disney Interactive Media Group, has followed an all-too-familiar pattern with game releases: If a new movie or attraction was slated for release, then a new app or game would come out in tandem. The company's latest game follows that pattern to some extent, but with one notable difference—there's a major emphasis on gameplay rather than the movie it's designed to promote.
Disney Mobile announced its newest mobile game on Monday—Temple Run: Brave, for both iOS and Android. For this release, the company teamed up with indie game developer Imangi Studios to make a new version of an already successful, non-Disney game, but with a Disney heroine and Pixar-quality graphics. And its release is conveniently tied with the theatrical release of Brave as well.
Partnering with outside game developers and expanding on an existing concept isn't Disney's usual route for an app, so why this change? With the company's new partnership and its acquisition of Tapulous back in 2010, Disney Mobile is striving to grow as a mobile game developer with long-lasting games instead of ones with short lived bursts of popularity.
Features of Temple Run: Brave
With more than 80 million iTunes downloads so far, the original Temple Run has been a hot game in the App Store since its release in mid 2011. It's addictive and fun to play, and with roughly 1.1 million reviews in the App Store with an average customer rating of 4.5 stars, lots of people like it.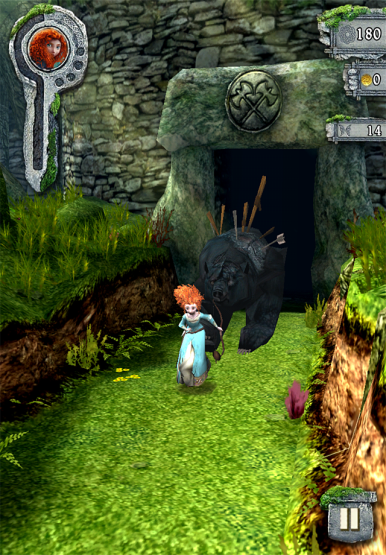 Bart Decrem, Senior Vice President and General Manager of Disney Mobile, expressed how impressed he was with the original Temple Run at a press event in May. He called it a perfect mobile game—simple, addictive, and awesome.
"We needed the right game mechanic and the right partner for our next release," Decrem said.
Temple Run: Brave isn't simply Temple Run with a new skin—it's a reimagined version designed to be an accompaniment to the original. If you've played Temple Run before, you'll have no problem getting used to Temple Run: Brave (and if you haven't, there's a handy tutorial that you can switch off and on). The game has continuous gameplay, and a pretty simple objective—Merida is running away from a demon bear named Mordu, and you help her avoid obstacles by taking sharp turns, making steep jumps, and sliding under fallen landscape. Swipe to the left or right to make her turn, swipe up to jump, or swipe down to slide. Collect coins along the way to level up and unlock power-ups.
One new feature found in Temple Run: Brave that's not in the original is an archery game. As Merida runs, she'll pass a series of targets—tap a spot on the touchscreen, and Merida will shoot arrows at each target. Hitting these will earn more points. Players also collect pieces of Merida's tapestry to reveal part of the Brave story.
With stunning graphics designed by the Pixar animation team, Temple Run: Brave was inspired by the same Scottish landscape as the film itself.
Future growth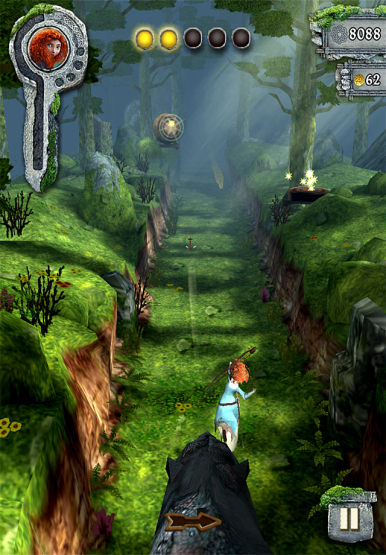 With this new game, and the release of past apps, Disney Mobile is striving for growth in three main areas, according Decrem. The first is to create games to introduce new characters, and the company has seen a great deal of success through this plan with the creation of Where's My Water?. Swampy, the star of this addicting puzzle game, now has his own merchandise line and a mini web series. Swampy is still going strong with App Store downloads as well.
The company also tries to re-imagine existing characters into new, creative gameplay scenarios. Last year's Cars App Mates release featured physical Cars figurines that you can drive across the screen of your iPad while playing the accompanying app game. Although buggy, these App Mates are interesting to play with and they "bridge together the physical world and the app world," according to Decrem. Other movie releases from Disney, like Tron, Tangled, and Pirates of the Carribean, also have their own mobile games.
Lastly, Disney Mobile builds games and apps for specific Disney events and movies. But the problem with these is that they tend to be popular at launch—which is when the event or movie is in its prime—but they don't usually stick around as popular downloads after the buzz dies down. "We needed to do more and do it better to get to the top of the downloads chart," Decrem said.
Because of the mediocre response to past movie tie-in games, Decrem wasn't initially planning a big game release around Brave—he was imagining a Temple Run collaboration with another film. But Imangi co-founders Keith Shepherd and Natalia Luckyanova were excited about releasing a Brave version with new gameplay and graphics.
"We have been really focused on Temple Run this whole year since it's gotten so popular," said Shepherd, "Just trying to expand upon it and get it everywhere that we can… and Brave was a perfect fit for doing a collaboration."
Temple Run: Brave will be available for download on June 14 for $1, both on iOS (iPhone, iPad, and iPod touch) and Android. It comes with 2,500 coins and additional in-app purchases.