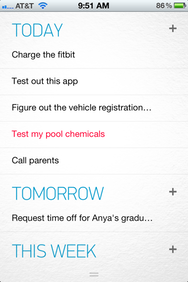 Any.do is the rare mobile app that began its life (and rose to popularity) on Android, only to arrive on the iOS platform later. In Any.do's case, "later" turned out to be Monday, as the to-do list app landed in the App Store.
You can create an Any.do account, or log in to the app via Facebook. Right away, iOS device owners paying close attention to the increasingly crowded to-do list app space space might notice some overlap between Any.do's interface and Clear ( ): You pull down on your to-do list to create a new task, swipe across a task to mark it as complete, and can shake to remove completed tasks.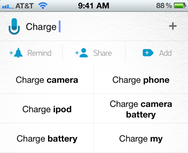 If you simply pull down and release, you can start typing a new task. As you do so, Any.do offers clever and well-implemented autocompletion suggestions which range from harmless to preternaturally good: When I started typing "Charge my," it offered several reasonable suggestions like "camera," "iPod," and "phone"—though not the right answer, FitBit. When I started tapping in "Test," the first suggestion was "Test this app," which was exactly what I wanted.
You can also add tags by voice, though Any.do uses its own voice transcription technology, and not Apple's. In my early testing, that means Any.do's transcription is slower and considerably less accurate than what I'm accustomed to from my iPhone 4S, but it's passable. And the behavior can get a bit buggy on occasion: You trigger transcription by pulling down as if to create a new task, but not releasing; soemtimes, if I pulled down for too long as I gathered my thoughts, Any.do entered some weird limbo state where I could type but not navigate within the app until I force-quit and relaunched it.
Tap on a specific task, and you can mark it high priority, file it in a folder, schedule a reminder, add notes, or share the task with others via email or Facebook.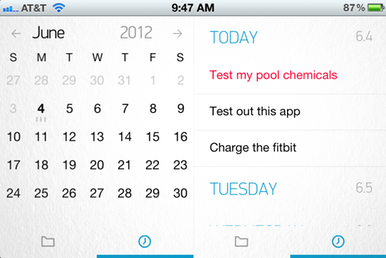 Turn to landscape, and you get a clever calendar view to go along with your to-do list.
Though Any.do currently lacks a Web interface, the company says one is coming soon. Chrome users, however, can install a browser extension for quick access to their Any.do to-do lists, which sync across devices via your linked Any.do account.
Any.do is free and requires iOS 4.0 or later.