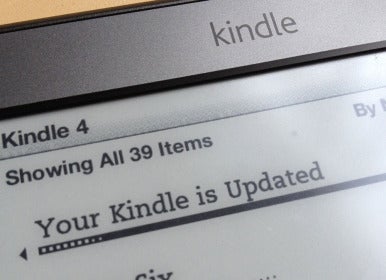 Amazon on Monday announced the immediate availability of version 4.1.0 of the software that runs on the adjectiveless, fourth-generation Kindle—the non-touch screen version with no keyboard available for $79 with ads or $109 without. The free update will install automatically via Wi-Fi over the next few weeks, but you can download it directly from Amazon and install it now instead.
The update includes an "improved" font that Amazon says is "higher contrast and crisper" for a better reading experience, although in brief tests we couldn't really see the difference. Also new are parental controls for restricting access to features like the Web browser, archived items, and the Kindle Store.
The software update also brings support for new book types: Books with complex layouts, books using Kindle Format 8, children's books with Kindle Text Pop-Up, and comic books with Kindle Panel View will all work with the 4.1.0 update installed.
Rounding out the updates are better dictionary organization and improved table and image viewing (with panning and zooming) on support titles.
Kindle With Special Offers (4th generation)