As delightful as they are, many of the children's ebooks offered in the App Store—your cats in their hats, your monsters at the end of their respective books—are simply digitized versions of traditional books. But there are more than a few original offerings out there, with some hidden gems among them. If you're convinced that there's nothing new under the ebooks sun, I suggest you check out Monster's Socks, a beautiful-looking story for kids with a playful degree of interactivity.
The story in the app from Jordan & Martin is a pretty straightforward tale: Monster loses his socks and embarks on a journey across land, sea, and outer space to find them. Along the way, Monster has a few adventures and encounters crows, cows, and moon creatures before the inevitable happy ending. It's a sweet little tale, with pleasant background music and narration that you can turn off if your child wants to read the story aloud, making it an ideal book for younger kids as well as those just learning to read. You also have the option of letting Monster sing his dialogue instead of speak it.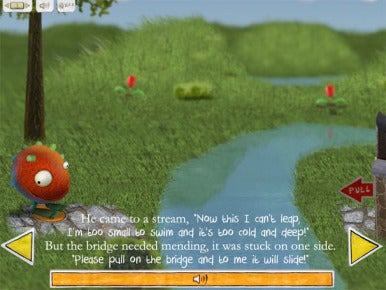 But the most distinctive thing about Monster's Socks is the app's look-and-feel. The characters are very detailed—you really get a sense for the fuzziness of Monster's fur while you can pick out blades of grass underneath his bare feet. It feels more like seeing a live-action puppet show than watching an animated story on a tablet screen. At the same time, background images are intentionally blurry, giving the app a dream-like atmosphere. It's really well done.
Any decent kid's book for the iPad features some degree of interactivity. Monster's Socks is no exception, asking the reader to pull out a bridge so Monster can cross a stream or shake an apple tree so that he can grab a bite to eat. Monster's Socks makes it quite obvious which elements you need to touch and in which direction they need to be pulled or swiped, marking those areas with arrows. I suppose that's a good approach for young readers, but I prefer kids apps that reward exploration and discovery—I wish there was more of that in Monster's Socks.
An important point to emphasize about Monster's Socks: It only runs on the iPad 2 and third-generation iPad. The description section of the app's App Store page makes that point quite clear, though the compatibility requirements are more vague about which devices will run Monster's Socks. Make no mistake, however: Trying to run this app on an original iPad will lead to crashes and tears. Stick with the developer's compatibility guidelines. If you do, you'll get a delightful tale that's as pleasing to the eyes as it is to the ears.
[Philip Michaels is the editor of Macworld.com.]