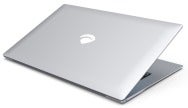 ClamCase, maker of the ClamCase laptop-style iPad keyboard case, this week revealed the ClamBook, a laptop-style docking station for the iPhone and Android smartphones.
With a design that could easily be mistaken for a MacBook Air, the ClamBook provides a 16:9 widescreen, laptop-style display and a full-size keyboard. The keyboard connects to your iPhone (or other iOS device) wirelessly via Bluetooth, and the display connects using a standard USB-to-dock-connector cable. As with other video-out solutions, the ClamBook either mirrors your iOS device's display or, if a particular app provides enhanced video output, shows full-screen, high-resolution video. (For example, some games and video-focused apps provide true 16:9 output.) Though the product's website is heavy with Android screenshots, it does show Real Racing HD playing from an iPod touch.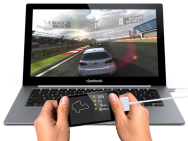 ClamCase told Macworld that the company will also be releasing a WebKit-based iOS browser optimized for watching online video on the ClamBook's screen. An API will also be available for developers to take advantage of special hardware features.
ClamCase has not yet announced pricing or specifications, but the company says the Clambook will be available for the 2012 holiday season.