Keyboard shortcuts—such as Command-C for Copy—have long been a quick and easy way to access common application actions. But how do you learn those shortcuts? I've long been a fan of KeyCue, a handy utility for quickly viewing all the keyboard shortcuts available from within the current app. (I've even included it in our new Mac Gems Superguide.)
KeyCue is a great cheat sheet for learning and using keyboard shortcuts, but if you're on a tighter budget and you're willing to give up some of KeyCue's niceties, the free CheatSheet ( Mac App Store link) offers an alternative.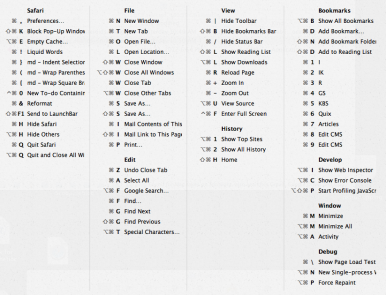 With CheatSheet installed, holding down the Command key for a couple seconds pops up an overlay summarizing all the shortcuts available from within the current application, including commands in the Application Name: Services submenu and those shortcuts you've added using the Keyboard pane of System Preferences. Press a shortcut, or click it with the pointer, to execute the corresponding command. It's that simple, and it's a great way to quickly figure out that shortcut you just can't remember, or to discover new shortcuts you might find useful.
CheatSheet's only options are to choose how long you need to hold Command before the shortcuts overlay appears, and to print the currently displayed list of shortcuts—the latter a feature missing from KeyCue.
On the other hand, if you use keyboard shortcuts frequently, KeyCue still has a lot to offer over CheatSheet. For example, KeyCue also shows systemwide shortcuts and can even display those shortcuts in a separate overlay. If you press any other modifier key, such as Shift, Option, or Control, while viewing the shortcut overlay, KeyCue highlights shortcuts that include those keys. You also get options for grouping submenus, for including or excluding shortcuts in the Apple and Services menu, for choosing the layout and theme of the KeyCue overlay, and for choosing which display hosts that overlay if you have multiple screens. Finally, some apps—such as those from Adobe—provide keyboard shortcuts that, because of how those apps are coded, neither CheatSheet nor KeyCue display; KeyCue lets you manually add shortcuts to be displayed in a particular app's listing, and the developer's KeyCue extras page lets you download sets of non-standard shortcuts you can import.
But for those who don't need KeyCue's many extras, it's great to have a simpler, lower-cost option, and CheatSheet will be all that many people will need.