The next time you're waiting to catch a flight, an iPad could be on hand to make the wait a little easier.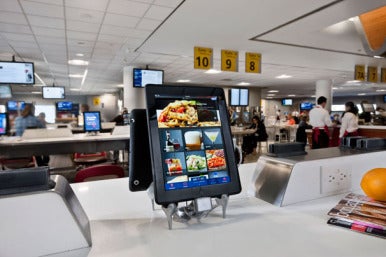 On Thursday, OTG, which operates food and beverage locations at North American airports, announced plans to deploy more than 7000 iPads at the three airports over the next year-and-a-half. Travelers will be able to use the tablets to order food at OTG's eateries, check their flight status, surf the Web, and otherwise unwind before boarding their flight.
The result is what OTG CEO Rick Blatstein calls one of the largest free deployments of iPads outside of what Apple does in its own retail stores. "We're really embracing Apple technology," Blatstein told Macworld.
OTG says it already has 300 iPads in place at Terminal D in New York's LaGuardia airport. It plans to boost the number of installed tablets to 2000, spread across Terminals C and D. In addition, OTG plans to roll out 2500 iPads at Minneapolis-St. Paul International Airport, and 2500 tablets at Personal International Airport in Toronto. The Minneapolis-St. Paul installation is set for Concourse G, while OTG is putting in iPads at Terminals 1 and 3 of Pearson Airport.
Here's what you can expect, should your travels take you to one of the terminals featuring OTG's iPad installations. The company has set up iPads both in the restaurants it operates and in the hold areas around gates. The iPads are tethered to tables—not unlike what you'd see at an Apple Store—but users can take the tablets out of their stands and hold the device in their hands.
A visual menu lets users order food from OTG's restaurants via the iPads. Food orders are delivered to a traveler's seat in 15 minutes or less so you don't have to fret about missing your flight while waiting for food.
In addition to food ordering, the OTG-installed iPads also let travelers check on flight information, including the status of the flight and the weather at your final destination. OTG also plans to include pre-loaded games and news apps for travelers to enjoy. Users will also be able to log into Facebook, Twitter, and email accounts; touching the iPad's home button when they're done removes any personal information.
The iPad stations in the hold areas will include outlets and USB ports for charging your own electronic devices. "We want to be able to give you the things you need to make the experience more enjoyable," said Albert Lee, OTG's chief technology officer.
OTG's installations include the latest iPads. And the company plans to keep it that way: When Apple comes out with a new version of its tablet, Blatstein says the company will upgrade its hardware.
OTG's initial plans may include three airports and 7000 iPads, but the sky's the limit beyond that. The company operates 150 restaurants and eateries spread out across 10 airports, and as Blatstein notes, "we're expanding." The company's iPad plans could expand too, with Blatstein expecting deployment to reach "tens of thousands of iPads" at OTG-operated locations at some point in the future.