This week's roundup of apps for the iPhone and iPad offers new ways to help you tell stories, make music, or simply find a great place to get lunch.
Already we've told you about the new OmniPlan's new project-management app for iPad, as well as the Pris camera app for iOS. And enterprise-oriented app users can celebrate the launch of Todo Exchange Tasks—which lets you access your to-do list in Microsoft Exchange—as well as a fresh update to Office² HD, which gives users the power to create Microsoft Office documents, spreadsheets, and presentations in iOS.
Other new and updated apps that caught our attention this week: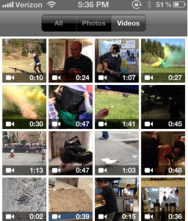 Cloudee: The competition to provide cloud-based video sharing is heating up quickly: Pixorial made a splash coming out of the gate last month; now it's joined by Boxee's free Cloudee app for iPhone. While users can upload iPhone videos to Facebook or Twitter from the app, it's designed for more targeted sharing—videos can be shared directly with friends and family, instead of the larger audience offered by YouTube and social networks. Those videos can be played on your iOS device, a computer, or a TV screen. Cloudee will soon offer premium accounts as well, at which point there will be an as-yet-unspecified cap on the amount of video you can share using the free service.
Foursquare: Until now, Foursquare has been the way you let the world know all the cool places you go. Thursday's update to the free iPhone application takes the service down a new path, letting you know about all the other places you might like in addition to your usual haunts. Open up the app at noontime, for example, and you'll get a list of nearby places to eat, including recommendations based on your previous check-ins and the preferences of other Foursquare users. (So if you're a burger fan, Foursquare will now guide you to the most-loved grills in your area.) The check-in feature has also been overhauled, letting you select your location from a map instead of a list.
Lumin: You've heard of "augmented reality?" Well the $2 Lumin app for iPhone offers something different—"magnfied reality." That is, it actually turns your iOS device into a magnifying glass, letting you lock onto a detail with the camera and showing that detail at ten times its actual size, a feature that can be used for everything from getting a close look at fine print on contracts to checking your makeup without a mirror. The newest update to the app lets users share closeup images to Facebook or Instagram, or save them automatically to Dropbox. Finally: An app that brings 21st century technology to the task of examining your zits.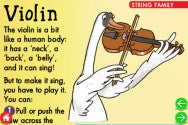 My First Classical Music App: Famed classical-music purveyor Naxos already offered this app in iPad form; this week My First Classical Music App came to the iPhone. The $5 offering acts as an illustrated album for young listeners, featuring more than 40 famous compositions, along with explanations of different instruments and short biographies of composers. Yes, most of us introduce our children to classical music by showing them video of Elmer Fudd singing "Kill The Wabbit," and while there's no reason to stop doing that, Naxos's offering can help kids expand on that first great lesson.
Princess Fairy Tale Maker: If your kid is in more of a creating mood than a learning one, however, Duck Duck Moose's $2 Princess Fairy Tale Maker for iPhone and iPad might be the place to start. The app lets you—or your child—create a story using 32 animated background scenes, 192 animated stickers of characters and objects (including the titular princess), and 29 crayons and colored pencils to add a splash of color to the proceedings. Users can record their voice to tell the story, and tap on the stickers so it appears they're talking during the dialog portions of the tale. All together now: "Once upon a time…"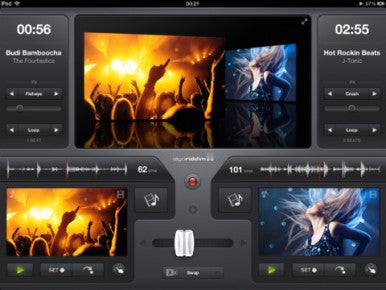 Vjay: Algoriddim's Djay app has long been a favorite among iOS music-makers; now the company is trying to duplicate that success in the music video realm with the $10 Vjay app for iPad. (The app runs on iPad 2 or the new iPad; the first-generation tablet isn't compatible.) The app lets you mix music videos from your iTunes library or create mashups of MP3s with video captured on the iPad camera, which can then be streamed wirelessly through Apple TV—or piped through an HDMI cable—to a bigger screen. See this video for a demonstration. Video didn't kill the radio star—now they can shake their booties together.