Apple on Monday took the wraps off iOS 6, the next version of the operating system that powers the iPhone, iPad, and iPod touch. Senior vice president for iOS software Scott Forstall told the developers and press in attendance that iOS 6 includes 200 new features, including Siri enhancements and Facebook updates.
The updated mobile operating system is slated to arrive this fall.
By the numbers
First, Forstall recapped some amazing numbers: He said there are more than 365 million iOS devices, and that more than 80 percent of them are running iOS 5. He said that 7 billion push notifications are sent to iOS devices each day, and more than 1.5 trillion such notifications have been pushed to date. He added that there are 140 million iMessage users who send more than 1 billion messages per day.
Maps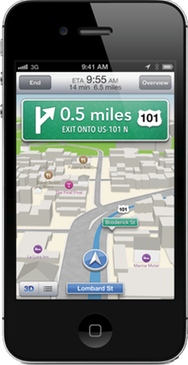 Maps in iOS 6 sports a new icon, and that's just the tip of the iceberg. Apple built an entire new mapping solution "from the ground up," Forstall said, doing all the cartography itself. And the assortment of features Apple will now include for free with the Maps app may well leave the folks over at Google feeling a little envious.
Part of Maps is local search. Apple ingested more than 100 million business listings, integrated with Yelp for reviews and ratings. Maps also integrates a traffic service, so you can see where slow traffic is. On top of that, actual incident details are overlaid, so that you can get a sense of when traffic should clear up. Apple says that one of the data-sources for traffic reports is anonymous crowd-sourced data from iOS users.
Also new is turn-by-turn navigation. The app gives you your estimated time of arrival, updated in real-time with traffic data. Maps will guide you around traffic jams when possible, too. And it all works from the lock screen, and integrates with Siri, too. Ask Siri where to go, and it will start the turn-by-turn guidance. And you can ask Siri to point you towards a gas station; it will find one on your route.
Forstall said Apple is very excited about Flyover, a 3D model Apple has built by flying over major metropolitan areas with planes and helicopters. The maps are vector-based, so zooming in and out is quick and painless. Tap on a specific building to get an information card with more details from Yelp.
You can switch to a 3D map mode to see wireframes of what individual buildings look like, adjust camera angles, toggle between 2D and 3D, and more. Perhaps no element of Forstall's presentation included more "Oohs" and "Ahhs" than his Flyover demo.
And, of course, with Maps in iOS 6, Apple is eschewing Google Maps entirely. That leaves the rarely-updated YouTube app as the last remaining vestige of the once-tight Google integration with iOS's core offerings.
Siri enhancements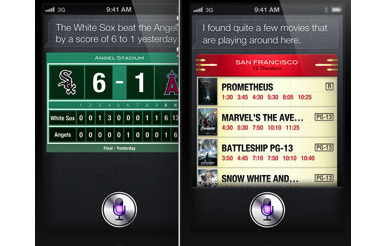 Siri in iOS 6 is expanded to include information on sports and know more about restaurants. It can also launch apps and let you post to Facebook or Twitter as well. With iOS 6, Siri support comes to the third-generation iPad; previously, only the iPhone 4S offered Siri as a feature. iOS's voice-driven personal assistant also gains support for numerous more languages, too. For more, read our complete coverage of Siri updates.
Facebook integration

As with Twitter in iOS 5, Facebook will be integrated systemwide on iOS 6. You'll be able to share photos, links, locations, iTunes and App Store items, and more via Facebook. And Facebook is integrated directly into Notification Center: You can drag down to post a new Facebook update (or tweet).
You can post to Facebook via Siri, too. Your Facebook friends' contact information and calendar events can also sync to your iOS device.
The Phone app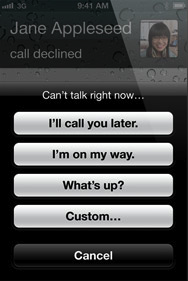 Slide up on an incoming call that you're not ready to take in iOS 6, and you can reply with a message or remind yourself to call the person back later. As with the Camera lock screen shortcut, you'll swipe up on a button when an incoming call arrives to access several built-in automatic messages you can send to tell the caller you're unavailable, or schedule the call-back reminder.
Do Not Disturb
iOS 6 also includes a Do Not Disturb option: Your iOS device still receives push notifications, calls, and text messages, but they won't light up your screen or make a sound.
For added control, you can allow certain numbers to sound your phone as they otherwise would even when Do Not Disturb is enabled. If someone calls you back within three minutes after a muted call arrives—implying it's urgent—your phone will ring.
FaceTime
In iOS 6, Apple's video chatting feature will work over a cellular connection, not just Wi-Fi. Forstall also said that Apple is unifying your Apple ID and phone number, so if someone sends a FaceTime message to your number (or an iMessage), it can arrive on your iPad or Mac, too.
Safari
About two-thirds of all mobile Web traffic comes from Safari on iOS, Forstall said. With Mountain Lion, your iOS devices will be able to sync your open tabs with iCloud, so the sites you visit from one device are accessible on your others. And as with Mountain Lion, Safari in iOS 6 now supports offline reading for webpages saved in Reading List.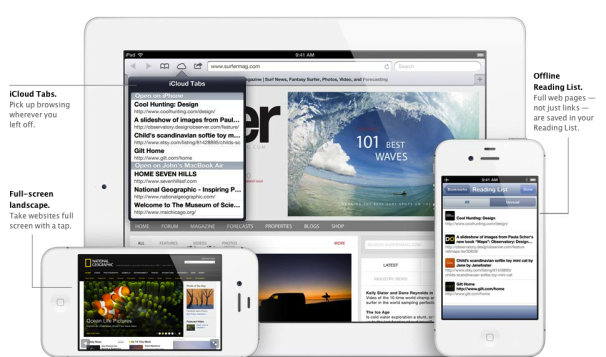 Another new feature in Safari is the ability to upload photos to websites that request them.
Forstall also explained a new feature for developers called Smart App banners. When customers visit the website for a developer's app, Safari can pop up a banner with a link to that app in the App Store. If you already have the app installed, you can launch the app directly.
Additionally, landscape Safari will now support full-screen mode.
Photo Stream
New in iOS 6 are shared Photo Streams, which let you easily share photos with friends. Choose the photos you'd like to share, choose your friends, and you're done. Friends receive a push notification, and photos appear in an album in the Photos app. Friends can also comment on your photos.
Mail
As it will in Mountain Lion, Mail on iOS 6 will add support for VIPs. Mark someone as a VIP, and you get a notification on the lock screen when their messages arrive, just like you do with a text message. And you get a special mailbox for those messages, along with a new Flagged mailbox.
Mail also makes it easier to insert photos and videos as you compose messages.
Also new is the ability to open password-protected Office files from within Mail. And Mail also adds the now-familiar pull-to-refresh option to update your inbox.
Passbook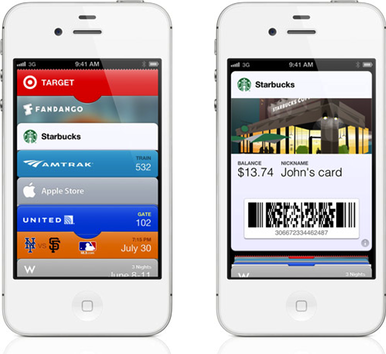 Forstall calls Apple's new app Passbook "the simplest way to get all of your passes in one place." It can grab your boarding passes, tickets, store card apps (like Starbucks), movie tickets, and the like, and organize them. And when you get to the location where you need a pass, iOS can tell, and pops up the appropriate pass on your lock screen.
And the cards are live: If your gate changes while you're at the airport, the saved card in Passbook gets updated automatically. Forstall told developers that iOS 6 includes a new Passbook API (Pass Kit) for creating and updating passes for the app.
Guided Access
"We set out to make the most accessible devices of anyone for all of our customers," Forstall said. "So we're really proud of how the accessibility community has been adopting iOS devices." He said that Apple is particularly proud of how kids with autism have been benefiting from iOS apps.
With Guided Access, you can circle the buttons you'd like to disable in an app, and iOS disables those. And you can put the iPhone in single-app mode, which prevents the Home button from exiting the app.
But this feature, of course, goes well beyond kids with autism. Single-app mode lets a teacher lock an iPad into a test so that students can't go look up the answers in Safari. And this would work well for museums, too, Forstall said. (Or parents with any young, iOS device-using kids.)
Other details
Forstall mentioned a slew of other features coming in iOS 6, too: Improved privacy controls (including limiting access to contacts or calendars), redesigned App Store, Game Center challenges, made-for-iPhone hearing aids, per-account signatures in Mail, Lost Mode for Find My iPhone (which sends a phone number directly to that phone), a variety of updates for China, and more.
Forstall also told developers that there's a new Reminders API, the ability to sell music from within iOS apps (without needing to send users to the App Store), and an integrated transit apps store within the new Maps app.
Developers received the iOS 6 beta Monday; it's due to ship this fall. It supports iPhone 3GS and later, iPad 2 and later, and the fourth-generation iPod touch. That makes iOS 6 the first iOS update since the iPad's introduction to discontinue support for the first version of Apple's tablet.
Updated repeatedly around noon PT with added details and screenshots, and again at 12:50 p.m. PT with added analysis.