Reader Jordan Janssen unwittingly asks for the gist of how Apple's Mail rules work. He writes:
I have become really lazy with my mail. I usually get a lot of email from the same people/companies. I would like to set up a mail rule so that once email is received from "sender@example.com" and is read, it's moved to a particular folder. I've tried to set this up in Mail's rules but I don't see an option for "Mail is Read" in the conditions box.
Nor will you. Mail's rules are designed to work as your email arrives (though you can manually impose rules by selecting them and choosing Message -> Apply Rules).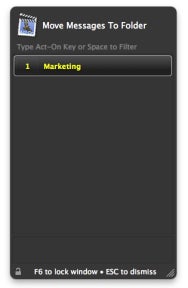 But since rules work on messages as they arrive, why not create a rule that sorts messages for you before you read them? Just open Mail's preferences, choose Rules, click the Add Rule button, and create a rule that reads:
If Any Recipients Contains "sender@example.com"
Move Message to Mailbox "Sender's Mail"
Your messages will now be sent to the correct folder as they arrive. You can then read them at your leisure.
If you still prefer viewing your email in the Inbox and then filing it after you've read it, you might want to check out Indev's $25 Mail Act-On. This is a very handy utility that allows you to easily organize your email with the press of a single key.