Apple introduced new Macbook Air models at Monday morning's WWDC keynote.
The new Airs—which come in 11-inch and 13-inch models—run on Intel's third-generation Core processor (Ivy Bridge) family: a Core i5 chip in the standard configurations, with a Core i7 processor available as a build-to-order option. The updated laptops ship with 4GB of memory, but you can expand that to 8GB.
The updated MacBook Airs now come with USB 3 in addition to USB 2. There's still a single USB port on each side of the laptop, but each incorporate both standards so you don't have to think about which one to plug into, according to Apple senior vice president of worldwide product marketing Phil Schiller. A high-speed Thunderbolt port alongside lets you easily connect to external displays and a variety of other peripherals. The 13-inch model also has an SD card slot. Both sizes feature an updated MagSafe 2 power port, which uses the same technology as the original MagSafe port but has been slimmed down for a lower profile.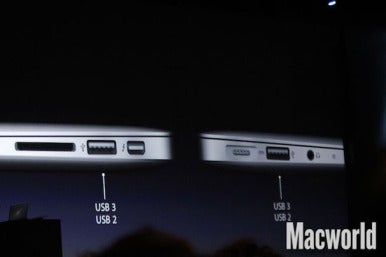 The MacBook Air's FaceTime camera has been updated to match the MacBook Pro's FaceTime HD version, offering 720p resolution.
Schiller claimed that the new Air's 1600MHz RAM offers better performance than the memory in the previous generation Air, and the new Intel HD Graphics 4000 offers up to 60 percent faster graphics performance. The new Air also uses a faster SSD (solid-state drive) for storage; Schiller said the new SSDs can provide data-read speeds up to 500MBps, which is up to twice as fast as the SSDs in the previous models.
Configurations and options
The 11-inch MacBook Air features a 1.7GHz dual-core i5 processor and an integrated Intel HD Graphics 4000 processor. It comes in a 64GB-SSD configuration for $999 and a 128GB configuration for $1099—that's $100 less than Apple charged for the previous higher-end 11-inch model. Both 13-inch MacBook Airs got a $100 price cut, too: The 128GB model costs $1199 while the 256GB version costs $1499. Those 13-inch laptops feature a 1.8GHz dual-core i5 processor and 4GB of memory. All Airs feature Bluetooth 4.0, stereo speakers, and an omnidirectional microphone.
Build-to-order options for the MacBook Air include a 2.0GHz Intel Core i7 processor, up to 8GB of 1600MHz DDR3 onboard memory and up to 512GB of flash-memory (SSD) storage.
The 13-inch MacBook Air delivers up to 7 hours of wireless battery life, while the 11-inch MacBook Air provides up to 5 hours, Apple says. Their batteries use advanced chemistry and Adaptive Charging technology to provide up to 1,000 recharges, according to the company.
Availability
The new MacBook Airs ship immediately. They ship with OS X Lion, and starting today, customers who purchase a Mac are eligible for a free copy of Mountain Lion when it becomes available.
Additional technical specifications, configure-to-order options and accessories are available from Apple's website.
Updated at 12:00 noon with more details.
Updated at 1:40pm with more details about processors, MagSafe 2, and performance.
MacBook Air (Mid 2012) family