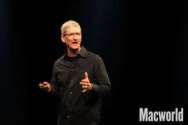 The app ecosystem surrounding Apple and its products has "become an economy in and of itself," Apple CEO Tim Cook said Monday in his WWDC keynote speech To prove his point, he rattled off a series of stats to show how big that ecosystem has become—particularly as it pertains to iOS:
• There are now 400 million customer accounts on the iOS App Store.
• More than 650,000 apps are available in that store—and 225,000 of those are made specifically for the iPad. Competing tablets, Cook said, only have a "few hundred" apps available for purchase.
• App Store customers have downloaded 30 billion apps.
• Apple has written checks for over $5 billion to developers—and that's after taking its 30 percent cut of all App Store sales.
• The ecosystem will get larger: The App Store is available in 120 countries, but that number will grow over the next month to 155 countries total.
Meanwhile, in his talk about changes coming with iOS 6, senior vice president of iOS software Scott Forstall offered a few stats of his own:
• More than 365 million iOS devices—iPhone, iPad, and iPod touch—have been sold since the platform launched.
• More than 80 percent of customers are running iOS 5, the latest version of the operating software, on their device. (Forestall noted that only about seven percent of Android customers are running the latest version of the Android OS.)
• Since Apple integrated Twitter in iOS 5 last year, 10 billion tweets have originated in iOS 5, and 47 percent of all photos shared on Twitter originate in iOS 5.
• There are more than 140 million users of iOS 5's iMessage service, and they've generated some 150 billion messages—and are currently generating more than 1 billion messages a day.
• The year-old Notification Center has produced more than 1.5 trillion push notifications, at a rate of 7 billion notifications a day. Forstall said 84 of the App Store's Top 100 social apps now integrate with the NotificationCenter.
• More than 130 million people use iOS's Game Center, submitting more than 5 billion scores each week. Two thirds of the top 100 game apps integrate with Game Center, Forstall said.
"Despite these blowaway numbers, what we do together is much more important than any set of numbers could ever reflect," Cook told the audience. "For Apple, and for, I expect, many of you, our goal has always been to do great work."
WWDC itself is sporting some impressive numbers, Cook said: Attendees came from more than 60 countries to attend the conference's 112 sessions and 125 labs.
Updated at 12:15 pm 06/11/12 to add comments from Scott Forstall.
Updated at 1:15 pm 06/11/12 with additional statistics .
iPhone 4S family
Price When Reviewed:
$599
iPad (third generation) family