Alongside the new 15-inch MacBook Pro with its shiny new Retina Display comes a brand new version of Apple's Aperture photo management program, designed to enhance your photo editing artistry and efficiency.
Aperture, now at version 3.3, also offers better performance, a unified photo library that lets you seamlessly switch back and forth between images stored in iPhoto (version 9.3 or later) and Aperture, and new adjustment tools.
Retina vision
First and foremost, the new version of Aperture is optimized for the new Retina-display 15-inch MacBook Pro. The update allows you to see more of your image when it's zoomed in at 100 percent. For pros dealing with 30-plus megapixel images, this will make a huge operational difference on the laptop's small screen. The effect on small thumbnails is also a big deal. Aperture 3.3's thumbnails are greatly improved, and will likely save you time in your imaging decisionmaking, Apple says.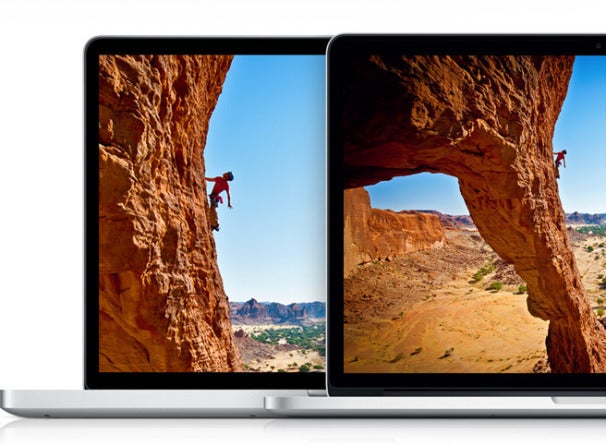 iPhoto integration
Many users take advantage of multiple programs when it comes to managing photos. Before Aperture, there was iPhoto, and even after switching, many people continued to maintain their iPhoto libraries and their edits in iPhoto. With Aperture 3.3, you can move images back and forth from your iPhoto library without having to import and export between them. Just open your iPhoto library in Aperture, and you're ready to work. Faces, Places, slideshows, albums, and Web sharing work across both applications.
White balance
Aperture 3.3 introduces a new way to correct white balance in your images. Very much like in iPhoto for iOS, this new Aperture version offers specialized white balance options for skin tones and landscapes. With modes like Skin Tone and Neutral Gray added to the standard Temperature and Tint controls, the program will provide better and more accurate color correction without a lot of distortion and tweaking.
Shadows and highlights
Aperture 3.3 has improved the Highlights and Shadows tool to work with even a wider range of images. The Highlights tool can recover even the most blown-out highlights, while the Shadows control is faster and easier to use and works with fewer sliders. A new mid-contrast control combines several advanced tools for single-slider control of flat-looking photos.
A newly updated and more intelligent Auto Enhance algorithm can act as a starting point for correcting photos. The control evaluates images and determines whether to correct white balance, adjust exposure, or add vibrancy, curves, or highlights and shadows. If you shot a perfect still, then the control knows enough not to make any changes.
Faster browsing of Raw images
Aperture 3.3 makes greater use of camera-generated embedded previews within Raw images to produce quicker, high-resolution thumbnails from your shoot. With the new version, there's no waiting around for previews to be processed before browsing, according to Apple.
More improvements
In addition to specific new features, Aperture 3.3 offers improved stability and performance. Smart image pre-cache improves the speed of browsing, while the application has been optimized to handle photo libraries of over 1 million photos and support for Raw images up to 30 megapixels.
A newly designed monochrome source list and toolbar icons remove interface distractions, so you can better focus on your images. And because so many photos are now shared online, Aperture 3.3 introduces a new unified Web Sharing view for all photos and albums that are published to Facebook and Flickr.
In addition, Aperture 3.3 supports AVCHD for videos, the Set Photo as Desktop feature (long available in iPhoto and elsewhere), and drag-and-drop functionality for the Faces feature. Facebook, Flickr, and MobileMe albums are now displayed as thumbnails in the main window when those accounts are selected in the source list.
There's also some minor terminology tweaks, a new preference that allows you to set the background brightness of the full screen browser, and a new manual option allows you to drag and drop projects to customize sort order in the Projects view.
And in another interface update, Apple has drained the color from Aperture's source list and toolbar icons, which now match iPhoto's gray color scheme.
The version 3.3 update is recommended for all users of Aperture 3.
iPhoto gets an update
Not surprisingly, along with the Aperture update, which references iPhoto, Apple has also updated iPhoto to open libraries from Aperture 3.3 or later (among other things).
Like Aperture, the new version of iPhoto supports AVCHD video. Other improvements include a tweak to the Description field, which now automatically expands as you enter text; the ability to flag a photo in Magnify (1-up) view by clicking a Flag icon in the upper left corner of the photo; a new Export option allows you to automatically organize exported photos into subfolders according to event, and Keywords and titles are now preserved when exporting files with embedded GPS location data.
The update is recommended for all users of iPhoto '11.
System requirements
To run Aperture 3.3, you need at least an Intel-based Mac computers with an Intel Core 2 Duo, Core i3, Core i5, Core i7, or Xeon processor such as: Mac Pro, MacBook Pro, MacBook, MacBook Air, iMac, or Mac mini with at least 2GB of RAM (with 4GB of RAM required for Mac Pro). It runs on Mac OS X 10.7.4 or later.
15-inch MacBook Pro with Retina display/2.6GHz Core i7 (Mid 2012)