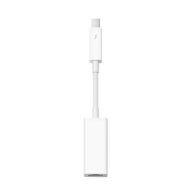 Apple is releasing two new Thunderbolt cables to accessorize the updated Macs the company unveiled at the keynote for this year's Worldwide Developers Conference.
The $29 Thunderbolt to Gigabit Ethernet Adapter was already available in Apple's online store early Monday evening. As the name indicates, the cable lets users connect their Mac to a high-performance Gigabit Ethernet network. The cable is compatible with either the MacBook Air with Thunderbolt models or the new MacBook Pro with Retina display; the Mac must also be running OS X 10.7.4 or later.
The second cable, a Thunderbolt to FireWire 800 adapter, was still awaiting its debut in Apple's online store as this story was published Monday.
The year-old Thunderbolt technology provides super-fast data transfer speeds to professional Mac users, particularly those who process large amounts of video. The growth of Thunderbolt-equipped peripherals has been slow, but it's been picking up speed as of late. Apple is pushing forward with the technology; the new Macbook Pro with Retina display features two Thunderbolt ports, in fact.
Apple 15-inch MacBook Pro with Retina display
Apple 15-inch MacBook Pro
Apple MacBook Pro, 13-inch
15-inch MacBook Pro with Retina display/2.6GHz Core i7 (Mid 2012)