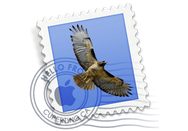 If you get a lot of email, it can be hard to see the important messages among all the others that can clutter your inbox. Reader radek suggests a way to have the badge on Mail's Dock icon display only the count of the emails you really care about—those from people you know.
To set it up, first create a new rule: Go to Mail -> Preferences -> Rules, select the Inbox Rules tab, then click on Add Rule. Name the rule Personal Email then define it:
Rule should match any of the following conditions: Sender Is in My Previous Recipients; or Sender Is in My Address Book.
Perform the following action: Mark as Flagged, then select a flag color that you aren't using for something else
That done, create a smart mailbox called Relevant Email: Choose Mailbox -> New Smart Mailbox. Specify that emails in the smart mailbox should satisfy all of the following conditions:
Message Is Unread;
Message Has Flag, selecting the color you chose in the rule above;
Message Is in Mailbox, then select Inbox from drop-down; and
Any Recipient Contains your email address.
Finally, go to Mail's General preferences tab and, for Dock Unread Count, choose the Relevant Email mailbox that you just created. All that done, the badge on Mail's Dock icon will now show you the number of unread personal emails from the smart mailbox you just created.
You could tweak the rule to match other conditions: email from your company's domain, for example, or messages from a group you've defined in Address Book. (For more on Mail rules generally, see Five essential Mail rules.)