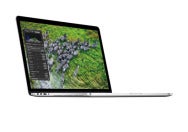 Apple has a special gift for you well-heeled early adopters who already brought home a brand new Retina display MacBook Pro. That gift? A MacBook Pro (Retina) Trackpad Update 1.0.
The Trackpad Update fixes an issue where the trackpad, in Apple's terms, "may not respond consistently to user input." Which would certainly put a damper on your clicking and swiping.
Not too surprisingly, Apple recommends the update for all MacBook Pro with Retina display notebooks. The update installs into the Applications/Utilities folder and launches automatically; your laptop must be plugged in to run the update.