In a world dominated by Apple's media efforts, other means of purchasing and consuming media are sometimes overlooked. One such means is Amazon MP3 and its accompanying Cloud Player.
If you haven't used Cloud Player, here's the gist: Amazon provides 5GB of storage for free through its Cloud Drive service. Tracks you purchase from Amazon MP3 are also available via the Cloud Drive, but don't count against the storage limit. If you've purchased a storage plan (starting at $20 for 20GB of storage) you can upload and access an unlimited number of tracks.
Accessing that music is now much easier thanks to the free Amazon Cloud Player app. Currently available in the smaller format suitable for iPhone and iPod touches (though it can be used on an iPad as well), the app allows you to not only play and download the music stored on your Cloud Drive, but play any music stored on your iOS device—music you've transferred to your iPhone, iPod touch, or iPad for use in Apple's Music app, for instance.
The app's design is quite straightforward—making good use of limited space by offering Playlists, Artists, Albums, Songs, and Genres tabs along the top of the screen. Just tap one of these tabs and you'll find the appropriate entries listed below. You can additionally browse your music stored on Amazon's servers or stored locally by tapping the Cloud and Device buttons respectively.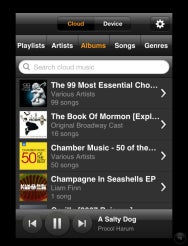 To play a track, just tap on it. If it's stored in the cloud, it will stream to your device and start playing. This works over a cellular connection as well as Wi-Fi. However, within the app's settings you can choose to stream only over Wi-Fi—a good idea if you have a limited data plan. Swipe an entry to the right and you find options for downloading that item (all tracks by a particular artist, all tracks on an album, all tracks tagged with a specific genre, and individual tracks). You can also find an entry for adding that item to a playlist. When you choose to download something, the number of tracks currently downloading appears plastered next to the Settings icon.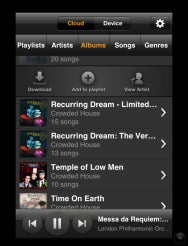 Much like when playing tracks in Apple's Music app, you can view a list of an album or playlist's tracks by tapping on a List button in the upper-right corner of the display. Also within the Now Playing screen you find controls for shuffling and repeating tracks, where you can choose to repeat everything, or just the currently playing track. Like Apple's Music app, the Cloud Player app supports AirPlay. You can easily show and hide the Now Playing screen by tapping on the play controls at the bottom of the screen or tapping a Hide button, respectively. Unlike Apple's Music app, you can't view lyrics embedded in a track.
Similar to other iOS music apps, the Cloud Player app can't display or stream music stored in iCloud. However, if you launch Apple's Music app and then download iCloud tracks to your device, those tracks will appear in Cloud Player. The app refreshes its library every five minutes by default, but you can force a refresh by tapping the Settings icon and then tapping the Refresh Cloud Library entry in the resulting screen. Despite the command's name, this also refreshes local content.
Also worth noting in the Settings screen are options for auto-downloading any Amazon MP3 purchases (this applies to future purchases rather than those you've already made) and an Add Playlists From Device command, which copies any iTunes playlists stored on your device to the Cloud Player app.
And that's pretty much it. The app is easy to use and provides a much needed convenience for those using Amazon Cloud Player.