If you haven't yet had a chance to download Apple's Messages beta, you'll now have to sit back and wait until July to try the real deal. The company has pulled the trial software in anticipation of Mountain Lion's release next month; the previous link for downloading it now just brings you to Apple's Mountain Lion page.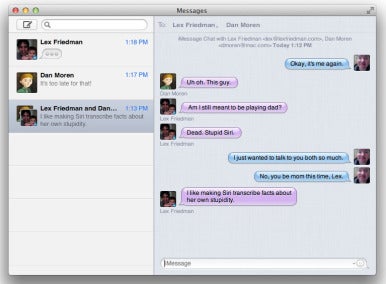 First released in February, the Messages beta for Lion gave Mac users a taste of what was to come with the release of OS X 10.8. Messages replaced the company's iChat app and brought support for Apple's iMessage protocol to the Mac, meaning that you could read and send messages to users on an iOS device.
The beta wasn't without its issues, however. For one thing, users found themselves inundated with notifications on their iOS devices and their Mac. And despite support for what Apple earlier this week described as "legacy chat services," the beta offering paled in comparison with more robust IM-focused options. And I went so far as to argue that instant messaging and text messaging really don't belong in the same app at all.
Still, Messages isn't really gone. If you've been running it for the last several months, you can continue to do so. And if you're looking forward to iMessage integration on your Mac, all you have to do is wait until Mountain Lion is released next month.