This week's roundup of iOS accessories includes products that help you play better, work harder, listen more clearly, and simply do more of what you like to do with your iPhone and iPad.
Gear4: Maybe we're not getting enough sleep these days—otherwise, why would there be a growing ecosystem of iOS apps and accessories that promise to help you rest better? The latest entry in that field is the $200 Renew SleepClock, a docking station for your iPhone and iPad that, placed at bedside, can monitor your sleep and even detect when you've risen in the middle of the night. It feeds the data to your iOS device via Renew's free app, allowing you to review in the morning and figure out what activities are helping you sleep—or keeping you awake.
Heckler Design: Businesses that increasingly using an iPad as a cash register—but don't know how to secure and display the tablet in elegant fashion—might want to look at the $119 WindFall display stand. It includes a Kensington security slot, as well as a pivot-and-slide slot for bolting the device to a countertop. The WindFall is made of steel and also includes space for card-reading accessories that let merchants process payments on the tablet.
Ion Audio: Retro iOS gamers will enjoy the two latest additions to Ion's iCade line: the iCade Core and the iCade Mobile. The former device turns your iPad into a small version of a 1980s standalone arcade console; the joystick and buttons work using a Bluetooth connection, allowing you to play Atari classics such as Pac-Man, Asteroids, and Centipede. The latter device wraps around your iPhone for PSP-style gaming. Pricing and shipping information have not been released for either device.
Looking for an iPhone or iPad dock that puts out big sound? Ion's new Room Rocker is designed to do just that, pumping out 40 watts of power while streaming music from your iOS device—either while plugged in, or wirelessly over a Bluetooth connection. The system comes equipped with stereo speakers, a subwoofer, and a remote control. Ion hasn't released pricing or shipping information.
Pure: Here's another option for iOS audiophiles: The $250 Contour 200i Air, a docking speaker system for iPhone and iPad that also serves as an AirPlay-enabled speaker. The Contour comes with twin bass ports and pumps out 36 watts of sound; the device also comes with a remote control, and it ca play Internet radio stations through the free Pure Lounge app recommended by the vendor.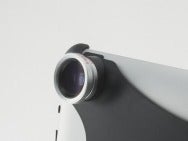 USBFever: As always, there are a number of new iOS accessories from this gadget outlet. The $40 10X Telephoto + 0.68X Wide Angle Lens for iPad 3 lets you take long-range photos using the camera on the new iPad. The company is also selling the $16 Wooden Desktop Stand for the iPhone 4 and 4S. There is also a $24 Blue LED Light USB to 30-pin dock-connector cable for syncing and charging your iOS device—a glow-in-the-dark item that will be fun at your next rave—as well as the new $50 Wireless Bluetooth Keyboard in Aluminum case with Skype Telephone, which will let you type and make handset phone calls on your iPad.
V-Moda: Here's an accessory that does a little bit of everything for your iPhone—and sports a price tag to match. The $650 V-Moda Vamp includes a headphone amplifier, an improved digital-to-analog converter, a battery pack, and other digital audio enhancements, all wrapped up in a protective, metal case. The battery provides up to 8 hours of additional life for your iPhone 4 or 4S. You'll want to have high-end headphones to fully take advantage of this product.
Wahoo Fitness: Bike-loving iPhone users will race to grab Wahoo's $60 Blue SC Speed and Cadence Sensor for iPhone 4S. The device lets you strap your phone to your bike, and using apps such as Cyclemeter or Strava—or the new Wahoo Fitness app—track your cadence, speed, and distance traveled. Be warned, though: The accessory is compatible with only the latest-generation iPhone and iPad.
iPhone 4S family
Price When Reviewed:
$599
iPad (third generation) family