Apple first previewed Mountain Lion back in February, so developers and tech journalists have had plenty of time to get familiar with the OS update. However, at Monday's Worldwide Developers Conference keynote, Apple announced a few previously undisclosed features coming in Mountain Lion, such as dictation support, Power Nap, and Safari improvements.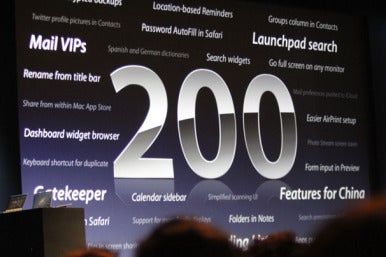 But in the process of announcing Mountain Lion's July release date, the company also breezed through a slew of other updates coming in the new operating system: Near the end of the Mountain Lion portion of the presentation, Apple's Phil Schiller displayed a slide listing oodles of other features. Here are a few that caught our eye:
Offline Reading List
Reading List, which debuted in Lion (OS X 10.6), is a Safari feature that lets you save Web bookmarks for reading later—your Reading List syncs between your Macs and iOS devices using iCloud. In Mountain Lion, the feature goes a step further by downloading each saved webpage—content in your Reading List displays in full—complete with text and images—even if your device lacks an Internet connection.

If that feature sounds familiar, that's because it's akin to the core functionality of apps like Instapaper or Pocket. But Reading List won't offer the full feature set of those apps; rather, it offers a small taste of deferred Web reading—not unlike Apple's minimal RSS integration in Safari. (That feature, you'll recall, was introduced in Mac OS Tiger back in 2005, and, ironically enough, gets dropped from Safari in Mountain Lion.)
File-management improvements
In Mountain Lion, you can rename documents from the title bar. That is, the venerable title bar in the new OS does double duty as a menu of its own. Click on the title bar of a document, and you can choose options like renaming the file, duplicating it, or moving it to iCloud.
And while this wasn't on Schiller's slide, if you're one of the frustrated Lion users angsty over OS X 10.7's removal of the Save As command, you'll appreciate that Mountain Lion restores that option—while Shift-Command-S remains the shortcut for Duplicate, adding Option to that keyboard combo gives you the traditional Save As behavior.
Mac App Store improvements
Apple says that the Mac App Store scores several significant upgrades in Mountain Lion. Among them: As with iOS, apps you purchase on one Mac will automatically be pushed to any other Macs linked to the same Mac App Store account. OS X updates will move to the Mac App Store in Mountain Lion, as well—Software Update will soon become but a memory.
And if you're a fan of gestures, good news: In Mountain Lion, Safari's two-finger swipe for navigating back and forth between webpages works in the Mac App Store, too.
And a whole lot more
Other updates large and small coming in Mountain Lion include: A sidebar in Calendar (née iCal) to view and manage your calendars; VIP contacts in Mail; iOS-style location-based reminders (and a full Geofencing API for third-party developers); search in Launchpad and Dashboard; Mail preferences syncing via iCloud; Do Not Track and password autofill in Safari; a new iCloud-syncing Notes app with note folders; a Photo Stream screen saver; the ability to run a full-screen app on any connected monitor; encrypted backups; backups onto multiple drives; and drag-and-drop file transfers in Screen Sharing.
[ Lex Friedman is a Macworld staff writer. Senior editor Dan Frakes contributed to this story.]