Like OS X itself, iTunes has a good number of hidden settings that affect how the program works and what options are available to you—some of them letting you revert to the behavior and appearance of older versions of iTunes. And as with those hidden OS X settings, accessing iTunes's secret features requires you to either hunt down special shell commands that you run in Terminal or use a third-party utility that presents the settings in an easy-to-use interface.
Though many utilities let you change these settings, most toss them into a window with dozens—or even hundreds—of other secret settings that have nothing to do with iTunes. And not all of those tweaking utilities include the latest iTunes options. A few years back, I covered Change Hidden iTunes Preferences 1.0, a tool from Doug Adams, the master of iTunes AppleScripting. Doug recently updated Change Hidden iTunes Preferences to version 3.0, and the latest version includes several features not available in 2009. (It also removes a couple settings that no longer work in the current version of iTunes.)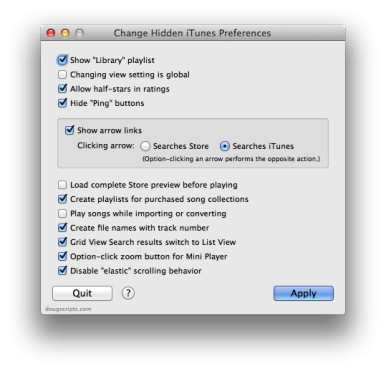 Double-click the Change Hidden iTunes Preferences app—or, if you use other iTunes scripts, put it in iTunes's Scripts folder (~/Library/iTunes/Scripts) and choose it from iTunes's scripts menu—and you get a single window listing all of the utility's options. You just quit iTunes, check the box next to each option you want to enable, click Apply, and then relaunch iTunes.
Here's a quick description of each setting:
Show "Library" playlist: Restores to iTunes's sidebar the main Library item, which includes everything in your iTunes library in a single view. (The Library item was removed in iTunes 8 in favor of separate items for each type of media.)

Changing view setting is global: iTunes normally maintains separate view settings (list, grid, Cover Flow, columns) for each library category and playlist. With this option enabled, changes you make to any item or playlist's view settings are applied to all categories and playlists.

Allow half-stars in ratings: iTunes has long had the capability to let you rate tracks in half-star increments, but the feature has always been disabled by default. This option lets you enable it.

Hide "Ping" buttons: If, like many of us here at Macworld, you aren't a fan of Apple's ill-fated, music-focused, social-media service, this option lets you hide the Ping buttons next to tracks.

Show arrow links: If you choose to hide Ping, you get the option to instead show an arrow next to each track's name, album, and artist. With this option enabled, clicking an arrow takes you to that track, album, or artist in—depending on the setting you choose for Clicking Arrow—your own library or the iTunes Store. (These arrows debuted in iTunes 9, if I recall correctly, but were deprecated in favor of Ping buttons in iTunes 10.)

Load complete Store preview before playing: Restores an option, removed a few years back, to load the entire iTunes Store preview of an item before beginning playback.

Create playlists for purchased song collections: With this option enabled, purchasing an album or other collection of tracks from the iTunes Store automatically creates a new playlist for that group of tracks. With this option disabled, the tracks are simply added to your library.

Play songs while importing or converting: Restores another previously removed option, this one to play songs while importing them from a CD.

Create file names with track number: This option was available prior to iTunes 8, but when the Keep iTunes Music Folder Organized setting debuted, iTunes defaulted to always adding each track's track number to its file name when ripping or organizing. If you'd prefer that your filenames didn't include track numbers, disable this setting.

Grid View Search results switch to List View: When you perform a search while browsing a category or playlist in grid view, this setting determines whether the search results are displayed in list view or grid view.

Option-click zoom button for Mini Player: There was a short time, from iTunes 9.0 to 9.0.1, when you had to Option+click the iTunes window's little green zoom button (instead of simply clicking that button) to toggle the Mini Player view. If you were one of the people who preferred the Option-key requirement, this setting is for you.

Disable "elastic" scrolling behavior: One of the iOS-inspired changes of Lion (OS X 10.7) is an elastic-like bounce effect when you hit the top or bottom of a window while scrolling quickly. This setting lets you disable the effect in iTunes.
As with Change Hidden iTunes Preferences v1.0, if you ever want to delete all traces of a setting from your iTunes preferences file, the program's file menu offers Delete Checked and Delete All commands. Doug's documentation explains that you might want to do this "if a future version of iTunes balks at these settings or you decide that messing with the iTunes preferences file is a bad thing."
Doug provides Change Hidden iTunes Preferences for free, but if you find it useful, he asks for a donation to support future development. Change Hidden iTunes Preferences requires iTunes 9.0 or later and OS X 10.6 or later. (If you're using an older version of iTunes or OS X, older versions of the utility are available for download at the same URL.)