This fall, you can stop asking your friend "Are you here yet?"—your phone will tell you for them. According to Apple's iOS 6 website, the company's Find My Friends app is set to add a new geofencing notification system with iOS 6. This will let you set up an alert for any of your Find My Friends contacts; when they leave or arrive at a given location, you'll receive an alert or banner notification.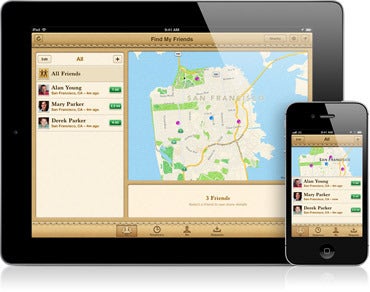 Like many parts of Find My Friends, this is one part creepy, two parts useful. On one hand, it's nice to offer people (like my parents) a way to check up on your journeys. For example, when I lived in California, I'd frequently make the drive from San Francisco to Los Angeles and back again to visit my folks. Once Find My Friends came out, I made my mother use the app rather than call me every few hours to check on my progress up or down the coast; with geofencing, she could have automatically received an alert when I finally reached my apartment. (And it's a lot easier to remember than sending a "Home safely" text message at 2 a.m. after you've been driving for six hours.)
I can see this being useful for coworkers, too: If you're one of the many workers who carpools, you can set up a geofence on the driver to let you know when they leave their house (and thus, how many more seconds of sleeptime you can sneak in before getting ready for the day).
Of course, like all location-aware services, this only works if your contacts are people you trust. Once you allow a friend to add you, they have access to your location and geofence alerts unless you remove them; as such, you may not want to allow everyone in your contacts list to follow you on Find My Friends. (If it's a trip or conference situation, try Find My Friends's Temporary Events feature instead.)
Adding a geofence alert may also wear down both your and your friend's battery. Sure, it's nice to know when your friend arrives at the ballpark, but they may be happier sending you a text message than having their battery drained by a geofence request.
Potential uses and politics aside, I suspect these alerts may take the same vein as iOS 6's call-rejection features: They're yet another way for us to automate busywork messages rather than feel the obligation to text or call. Does it remove the personal connection behind those messages? Perhaps. But, given the strangely intimate nature of following someone's location in the first place, maybe this just reworks it. Even if it's not a direct message from your contact, there's something special knowing your loved ones are home safe.