Perhaps no Mac app's interface has been maligned in recent months as much as that of Skype 5. Thursday's release of Skype 5.8 for Mac should please some of those critics, however, as the company has shown that it's listening to the feedback of its users.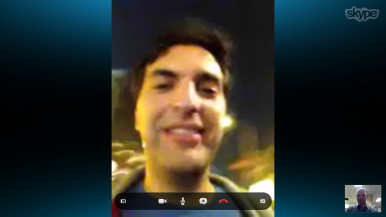 Krishna Panicker, the product manager for Skype for Mac, spoke to Macworld about the changes, which were influenced by feedback about the previous version from a number of sources. "We have user labs we run once a week, so I interview a massive cross-section of our userbase," Panicker said.
The most prominent change is the simplification of the contact list. Instead of the floating translucent Contacts Monitor of earlier Skype 5 editions—which didn't really let you interact with those contacts—Skype 5.8 brings a window that looks much more like the Skype 2 contact list. Not only can you quickly filter by groups such as Online or Family, but you can also interact with those contacts: Right click on any of them, and you'll have contextual menu options to call, instant message, or send SMS, files, or information about a contact. According to Panicker, users with large numbers of contacts greatly prefer a slimmed-down list, especially those that tend to use Skype more for chatting than calling.
In addition to the welcome change of the contacts list, Skype 5.8 has a few other tricks up its sleeve. Skype users with a paid Premium subscription can now take advantage of Group Screen Sharing, a feature previously only available to Windows users that, as you might guess, lets you share your screen with multiple call participants. It also lets you share both your screen and your video feed with one or several other users—handy if you happen to be giving presentations to remote colleagues, for example. Users without a Premium subscription can continue to share their desktop in one-on-one calls, but not alongside their video.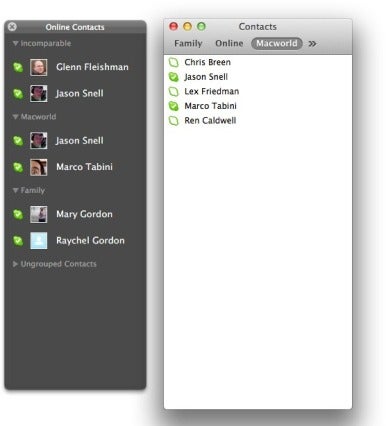 According to Panicker, Skype 5.8 should now bring the Mac client to feature parity with the Windows version. There are also a number of smaller refinements sprinkled throughout the release. For example, you can now double-click during a video conference to jump to full-screen mode, disable birthday notifications (handy if you have lots of contacts), and there's better support for portrait orientation when chatting with contacts using Skype on tablets or mobile phones. Entering a phone number in the search field and pressing return will now call that number, and you can quickly send an SMS message to a number by using a keyboard shortcut. And the app is fully ready for Apple's forthcoming OS X update, Mountain Lion.
Thanks to its recent acquisition by Microsoft, Skype now has even more resources, and it's got plenty of updates still in the works—among them, Panicker teased, the potential return of multiple windows for IM conversations, a feature in demand by many users of older Skype versions.
That feedback remains an important part of Skype's updates, Panicker told Macworld, though the company makes it a point to take those reactions from many different sources: "What is very user friendly for the early adopter is different from what might be user friendly for your grandmother."
Updated at 10:26 a.m. PT to note Mountain Lion support.