What is an Action Sheet? Nobody can say at the moment, but if I'm reading the tea leaves correctly, it could mean a simpler way to share content on your iOS device once iOS 6 arrives this fall.
All we know about Action Sheet is that it's a part of iOS 6. And the only reason we know that comes from a slide shown at the tail end of the iOS 6 preview during Monday's Worldwide Developers Conference keynote. Still, there's nothing stopping us from doing a little dreaming about what this mysterious Action Sheet feature might mean for you and me.
The background
It's become as much a staple of Apple keynotes as "and we made a video": Near the end of one section of the presentation, a word collage gets thrown up on the screen, listing oodles of other features that there just isn't enough time to highlight individually.
Monday's Worldwide Developers Conference keynote was no exception. When Apple senior vice president Scott Forstall finished up his rundown of iOS 6, he shared a pair of such word salad slides. The first showcased user-facing features coming in the next version of Apple's multitouch operating system, and the second showed new features and programming interfaces for developers.
Action Sheet appeared on that latter slide. Apple declined to explain to Macworld precisely what was meant by that phrase, but I have a guess. And it's a feature that ought to make iOS life a bit simpler for users and developers alike.
Sharing is caring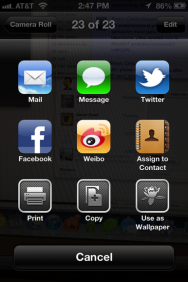 As we've reported, iOS 6 employs a new screen when you tap to share content. Where iOS 5 presents a long list of tappable buttons for sharing, say, a photo (Tweet, iMessage, Email, and so on), iOS 6 instead presents a grid of icons. And for some services—like Twitter, Mail, iMessage, and Facebook—iOS 6 uses the icon from the directly related app in question.
That sheet of sharing actions—which some just might call an Action Sheet—looks awfully simple to expand. But why would you want to?
Let's use perennial Macworld favorite Instapaper for a quick example. Right now, if you want to save an article you come across in Mobile Safari on your iPhone for later reading in Instapaper, it's kind of a hassle. First, you need to install the Instapaper bookmarklet on iOS, which is an annoying process—you can't drag a bookmarklet to install it on iOS the way you can on your Mac.
Once it's installed, you need to tap to access your bookmarks and then tap again on the Instapaper bookmarklet. If Instapaper could register as a service for that sharing sheet, however, it may make the process simpler. You wouldn't need to deal with the hassle of installing a bookmarklet, and you could use an easier-to-access iOS function for saving articles to Instapaper.
Plenty of other apps could benefit from such functionality, too. For example, with Mountain Lion, Apple suggests that what it calls Share Sheets could allow you to post photos to Flickr and send videos to Vimeo. If Apple can expose similar functionality to third-parties on iOS—couched with adequate options for users to control which apps can clutter up that sharing screen—it may vastly simplify the work of sharing bits of data across and between apps and services when you're mobile.
Waiting for fall
If I'm right about Action Sheet, it is but one of many reasons to get excited about how iOS 6 will make life simpler. Other, easier-to-grok developer features will help toward that end too, like a Reminders API (which will give third-party apps access to your Reminders data, much like third-party apps can already access your calendar today), and the ability to offer Bluetooth pairing and iTunes Store purchasing inside third-party apps, rather then sending users from one app to another to accomplish those tasks.
Of course, we won't know precisely how much better iOS life will be until the operating system's official release this fall. Even if I'm way off base about Action Sheet, it seems clear that Apple is continuing on a steady path of improving iOS at both the macro and micro levels, and that means there's plenty to look forward to.