[Ask the iTunes Guy is a regular column in which we answer your questions on everything iTunes related. If there's something you'd like to know, send an email to the iTunes Guy for consideration.]
While you can play music in iTunes, or on an iOS device, by choosing an artist or album—or even totally at random—playlists are what let you customize your library and your listening experience. We've gotten lots of questions about smart playlists, and here are some of the most interesting ones (plus a common question about displaying playlists in iTunes).
Q: How can I make a random smart playlist that limits the number of tracks by a specific artist?
Start by making a new smart playlist. Choose File -> New Smart Playlist, or press and hold the Option key and click the gear icon (the plus icon turns into that when you press Option) at the bottom-left of the iTunes window.
The new playlist will default to a single condition: Artist Contains. Click Contains and choose Is from the pop-up menu that appears (unless you want to include albums where there are multiple artists; in that case leave it as Contains).

Then, check the box next to Limit To. By default, the field next to it is 25, but you can change that to any number you want. Click OK to save the playlist.
Q: Is there any way I can group all the songs by artists where I only have one song in my library: all the freebies, one-hit wonders, and so on? There doesn't seem to be a way to make a smart playlist that looks for "number of songs in my library by an artist is 1". Any suggestions?
You're right; you can't do this with a smart playlist. However, Doug Adams' $2 TrackSift contains nine tools to craft playlists that you can't create in iTunes, including a One-Hit Wonders playlist, exactly as you want. It can also find files without artwork, without lyrics, and perform some cleaning operations on your iTunes library.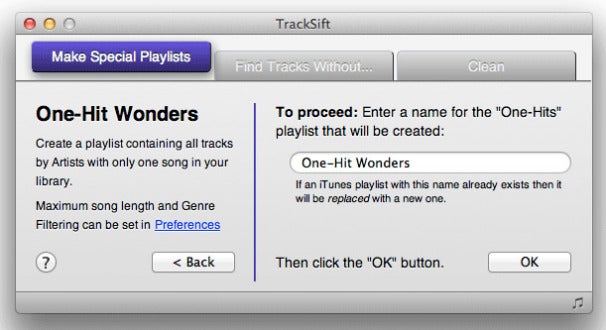 Q: I use data from the genre field to make smart playlists. However, it's very tough to deal with multiple genres in iTunes. Is there a way to use keywords that could easily be assigned to songs, so one song could have multiple genres?
It's true that not all music fits neatly into a genre. Keyword tagging, such as that used in iPhoto, was one of my Eight feature requests for iTunes 11 last year.
In the meantime, there is a way you can do this: use the Comments field to enter specific keywords you want to use. For example, if you have a big jazz collection, and your genre for this music is always Jazz, you can add specific keywords such as Holiday, Acid, and/or Fusion in in the Comments field (you can enter as many keywords as you want as long as you separate them with spaces) for any music you want in another genre.
You can then create a smart playlist for music that matches any of the conditions where, for example, Genre Is Holiday and Comments Contains Holiday. That way you'll get both songs whose genre is Holiday and any tracks—regardless of genre—with Holiday in the comments.
Q: I was wondering if there is a way to specify more sophisticated matching for smart playlists that goes beyond just All or Any conditions. For example, suppose I want all music that has a genre of Rock and a rating greater than 3 stars, or all music that matches a genre of Metal and a rating greater than 3 stars. I want to match either the first set of conditions or the second. The result would be a playlist that contains music whose genre is Rock or Metal and all ratings greater than 3 stars. Is there any way to do this?
Yes, and it's actually not very complicated. Make the individual smart playlists—Rock and Metal, say—wherein the playlist matches songs that are three stars or greater. Then make another smart playlist with Playlist Is playlist name for each of the playlists you created earlier.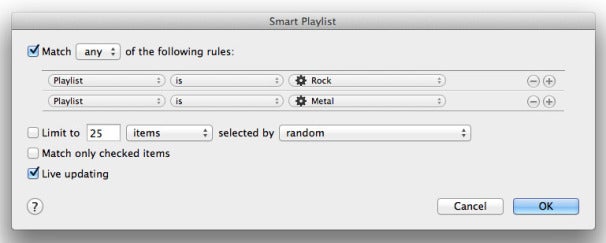 You can have as many playlists as you want as conditions in this playlist, as long as you set the first condition to Match Any Of The Following Rules.
Q: Many of my playlists have alternate columns displayed. For example, in one it might be Album, Name, Artist, Genre. In another it may be Name, iCloud Status, Artist, Album. Is there a quick and easy way to make them all uniform?
Yes, and Doug Adams comes to the rescue again. His payment requested Assimilate View Options AppleScript will, as he says, "re-create a selected playlist so its View Options (visible columns) are the same as the main Music library." So you can set up the main Music library with the columns you want, then run the script to reproduce this setup for any of your playlists.
[Senior contributor Kirk McElhearn writes about more than just Macs on his blog Kirkville. Twitter: @mcelhearn Kirk is the author of Take Control of iTunes 10: The FAQ, second edition].