It might seem as though RSS readers have started playing second fiddle to social networks, but there's still plenty of life in browsing through site feeds, as evidenced by the latest update to Silvio Rizzi's Reeder for iPhone.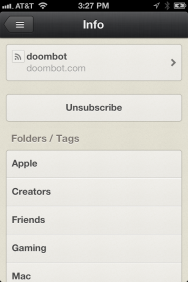 In its newest incarnation, Reeder has been drastically rebuilt. While it maintains much of the spirit and character of previous versions, the UI has been substantially refined, along with new feature additions.
Upon starting the app, you'll be prompted to add an account for Google Reader, Readability, or Fever. At least one of those accounts is required to use Reeder, but you can also use more than one account if you subscribe to those services. Existing users of Reeder will also have to first reenter their credentials.
Among the most significant feature changes in version 3.0 are the ability to manage your Google Reader feeds. You can now subscribe to new feeds, unsubscribe from existing feeds, and change which folders/tags your feeds live in. (Though the latter two features are a little tricky to find: You'll want to navigate to a view of that particular feed, then tap the favicon in the top right corner.)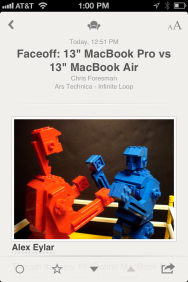 Reeder's new UI overhaul is most apparent in article view mode, which is now laid out in an almost more "print" fashion: Big headline at the top, author and publication below that. A Readability shortcut is now more prominently located in the top center of the view, and there's quick access to the font sizes and line-spacing by tapping the font size key in the top left.
At the bottom is a translucent control sheet which features buttons to mark a story as read or unread, star or unstar a story, page up and down through the list of stories, and share the stories with others. As with previous versions of Reeder, the Sharing list is customizable, but the preferences to do so now reside with the rest of the settings, which are located within the app itself. Two additional services, Buffer and Quote.fm, are also now available.
There's also a much bigger focus on gestures in Reeder 3.0, at some points out of necessity. For example, since there is no longer an anchored top tool bar in the article mode, the button that moves you back up to the list of articles disappears as you scroll through the text. In order to go back, you just swipe to the right. You can also swipe to the left to automatically open the article in the app's own browser (which can still be accomplished alternatively by tapping the name of the article).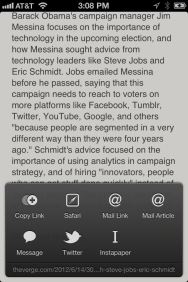 An inverse pinch will automatically trigger the Readbility feature, while pinching an image will zoom it to the full screen. And when you're browsing through a list of unread items, you can quickly mark all the items above or below that piece as read by two-finger swiping upward or downward, respectively.
It's obvious a lot of time and attention has been paid to Reeder's interactions, and as such it is almost as definitively its own app as something like Tweetbot or Instapaper without going to as much of an extreme, say, Clear. In the end, Reeder is unique, while still being recognizable as an iOS app. Given the revamp, users will surely be awaiting the similarly revised editions of Reeder's iPad and Mac flavors.
Reeder is $3 and requires an iPhone 3GS, iPhone 4, iPhone 4S, or third- or fourth-generation iPod touch running iOS 5.1.