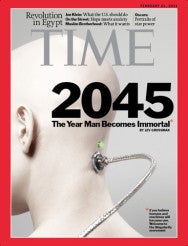 Ending a long holdout, Time Inc. said this week it would make its iPad magazine apps available for subscription through Apple's iOS Newsstand service—a move that will save money for readers and extend Time's digital reach.
Company magazines like Time, Sports Illustrated, and Entertainment Weekly were among the first offerings for the iPad—Sports Illustrated even envisioned a tablet magazine in 2009, before the iPad launched the next year—but only for single-issue purchases at around $5 a download: The company reportedly balked at Apple's policy giving Cupertino a 30 percent cut of subscription fees while letting it keep subscriber information largely out of the hands of publishers.
The result? A magazine available for as little $39 a year in print was costing upwards of $250 a year in its iPad format. Under terms unveiled Thursday, Time will be available for $30 a year; Sports Illustrated for $39 annually, with print subscribers able to access the magazines in tablet format. Twenty of the company's magazines will be available for subscription, officials said.
Neither Time nor Apple officials would comment on what, if anything, resolved the standoff. "Our goal is to offer content where our consumers want to read it," Time Inc. CEO Laura Lang told the New York Times.
The Time Inc. apps are compatible with iPads running iOS 4.0 or later, and are part of the Newsstand for tablets running iOS 5.0 or later.