Editor's Note: The following article is reprinted from TechWorld. It has been updated from the original to include U.S. pricing and availability.
Data backup has plowed the same dull field for two decades, but Seagate thinks it has come up something genuinely new: a way to directly back up content from online services such as Facebook and Flickr.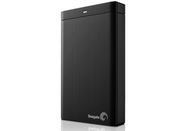 The company's new Backup Plus drives ship with an application that plugs into the two online services, automatically backing up (in compressed form) any photographs posted there. It could be described as a sort of uncloud. The drive also handles the upload of content to these services (and also YouTube) as well as allowing conventional scheduled or continuous local file backup.
"The idea of providing a backup of photos and videos from Facebook is an interesting one, which I believe may help people come to realize the importance of maintaining multiple copies of any digital asset regardless of where it is stored," argued Seagate's Brett Sappington.
Eschewing the option to integrate with better-known cloud services such as Dropbox, Seagate rounds off the backup options with 4GB of online storage through its own service. This is understandable but perhaps a shame; computers users are being offered numerous backup and synchronisation services right now and being able to choose a preferred one sounds like the future.
Physically, the Backup Plus models all use the same separation of drive and interface Seagate has pioneered for some time, although the new drives ship with USB 3.0—interfaces for FireWire, eSATA and Thunderbolt are also available at additional cost. Capacities for the portable versions of the drives are 500GB, 750GB, and 1TB, with 2TB and 3TB for desktop units. Mac users get Paragon NTFS for Mac which allows the drives to connect to an Apple computer without having to resort to FAT32.
U.S. prices are $120 for the 500GB Portable, $130 for the 750GB Portable, and $140 for the 1TB Portable; and $190 for the 2TB Desktop and $210 for the 3TB Desktop.
Note: When you purchase something after clicking links in our articles, we may earn a small commission. Read our affiliate link policy for more details.