Mobile mapping is much on the minds of iOS users these days, what with a revamp of the Maps app leading the charge of changes in this fall's iOS 6 update. But no matter if your mapping data comes from Apple or Google, whatever features your built-in maps app boasts are of little use to you when you can't get a Wi-Fi or cellular connection.
That's where Maplets comes in. The iPhone and iPad app from Zaia Design lets you download assorted maps when you have network connectivity for those times when you don't. And we're not just talking city maps, though Maplets does offer a few of those. The app gives you free access to a library of maps for mass transit, national and state parks, stadia, theme parks, museums, bike trails, campuses, and more. Zaia provides a list of recently added maps on its website, and you can also search to see if a specific map you're looking for is offered. (That's a handy feature for knowing if Maplets is worthwhile before you pay for the app download.)
Why would you need such an app? Apart from devices that can't always promise a reliable network connection—I'm looking in your direction, iPod touch and Wi-Fi-only iPad—there are going to be times when your cellular connectivity may be spotty and you'd still like to have access to a map handy. Sporting venues are notorious for slow data connections—having an offline map available may help you find your way around an unfamiliar arena or stadium. As another example, national parks and wildlife areas have plenty of things going for them—bountiful cell towers are not on that list. Having a map of Yosemite or Yellowstone or whatever park you happen to be in on a close-at-hand mobile device gets around that problem.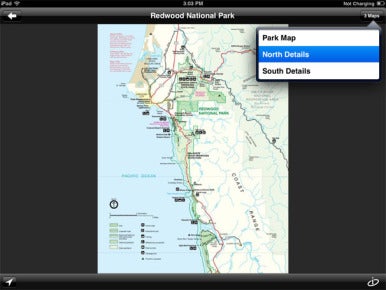 I used Maplets to help plan a theoretical trip to Washington D.C. From the app, I downloaded maps of the terminal at Dulles International Airport, the Capitol Hill area, D.C.'s Metro subway system, the National Air and Space Museum, and the city center. With those maps loaded into Maplets, it's possible that I'd never even have to fire up the built-in Maps app to find my way around the attractions I want to see.
There are, of course, limitations to what you can do with the maps you've stored in Maplets. These aren't interactive digital mapping tools, but essentially PDFs of paper maps. If you want to search for nearby amenities, get directions, or pinpoint your exact location, you're going to need another app for that. Because Maplets is at the mercy of the paper maps it uploads into its library, the maps aren't designed to perfectly fit the screen of your iOS device. Fortunately, you can zoom and pan, and the map text remains pretty legible. (It's also easier to view on an iPad, in my experience.)
Downloading maps from Maplets is fairly simple, once you know where to tap. A search field appears on Maplets' main screen, but that's to search through your library of already-downloaded apps; to grab new ones, you'll want to tap the plus (+) button in the top left corner of the app's screen. From there, you can type in searches for specific apps or select from the list of nearby available maps that Maplets provides. There's also a map interface in which you can search for available maps. (They appear as green pins; maps you've already downloaded show up as red pins.)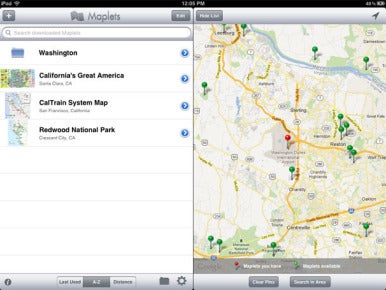 Maplets provides a neat organizational feature: You can create folders to stash related maps. In that Washington D.C. scenario I mentioned earlier, I created a Washington folder for keeping all the maps related to that trip in one place. It makes it much easier to find what you're looking for when you're out and about.
Maplets isn't a replacement for the built-in Maps app, but it can help you find your way around places Apple's Maps offering can't. Travelers and hikers, in particular, should give Maplets a try.
[Philip Michaels is the editor of Macworld.com.]