If you've ever tried to share an iWork file between Macs and iOS devices via iCloud, you know that it doesn't work very well. The essential problem, as I've detailed previously, is that iWork documents on the two platforms use different file formats. This means that when you edit an iWork document on one platform (an iPhone, for example), the matching document on the other platform (a Mac, in this example) is not automatically updated to reflect the change. There is no true syncing of iWork documents between platforms.
Exciting news! This is all about to change…for the better. At Monday's Worldwide Developers Conference keynote, Apple vice president of software engineering Craig Federighi revealed a new feature of OS X 10.8 Mountain Lion: iWork automatic syncing via Documents in the Cloud.
Surprisingly, aside from the Keynote demo, Apple has barely mentioned this coming change. The tech media have similarly not given the new feature the attention I believe it deserves. So here I am to correct this oversight.
In Mountain Lion, you will be able to live update an iWork document across platforms. That is, not only will there be automatic syncing of files, but the syncing can take place even if the same file is simultaneously open on more than one device. About 50 minutes into the keynote, Federighi showed this new feature in action: After editing a Pages document on an iPhone, the same document, already open on a Mac, updated itself on the Mac's display. Very slick!
Although cited as a new feature of Mountain Lion, I assume this live syncing will also require updates to other components before it kicks into gear. It will certainly require new versions of the iWork apps for both the Mac and iOS platforms. It will likely also require changes to the iCloud software and possibly the release of iOS 6.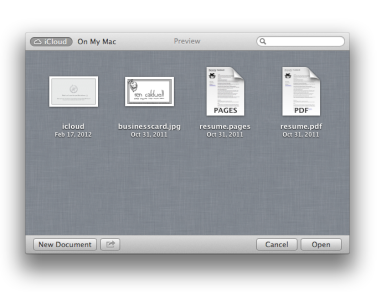 A few questions remain unanswered for now:
iOS iWork documents are currently a "restricted" form of the Mac versions, supporting only the subset of iWork features available with the iOS apps. How will this differ in Mountain Lion so as to enable live syncing? Will the Mac versions of iWork apps support two different file types, the "full" Mac format and a restricted iOS-compatible one (with only the latter allowing live syncing)?
Will you be able to simultaneously edit the same iWork file on a Mac and an iOS device? If so, what if two users are involved? How will the apps prevent making changes on one platform that unintentionally overwrite changes being made by the other user on the other platform? Perhaps Apple assumes only one person will share documents between devices in this way, so that overwriting is not an issue. Perhaps live updating will only work in one direction, from iOS device to Mac.
Are there other limitations or potential problems lurking, not apparent in the Keynote demo, that will make this syncing less useful than it appears to be? We'll have to wait and see.
More generally, what about files that can be opened by more than one app? For example, Pages on the Mac can open .rtf documents created in TextEdit. If you save a file to the iCloud Document Library in TextEdit, will that same file be accessible and openable from the iCloud Document Library list in Pages? Things don't work this way now and Apple's description of iCloud in Mountain Lion suggests this won't be changing: "To find an iCloud document, just open its app. The iCloud Document Library shows your iCloud documents for the app." But I see a bit of wriggle room here. One can always hope.
Regardless, based on what Apple demoed on Monday, a long overdue and much welcome improvement to iWork syncing is coming to Mountain Lion.