FileMaker on Tuesday released the newest version of its consumer database, Bento 4 for iPad. Past versions of the Bento for iPad have limited creation tools and have focused on acting as a means to access and modify existing databases that were initially created on the Mac. The new Bento 4 for iPad adds a complete set of tools to allow for the creation of Bento databases on the iPad itself.
"You don't need a Mac," Ryan Rosenberg, FileMaker's vice president of marketing and services, told Macworld. "You're actually building and constructing your own apps on the iPad."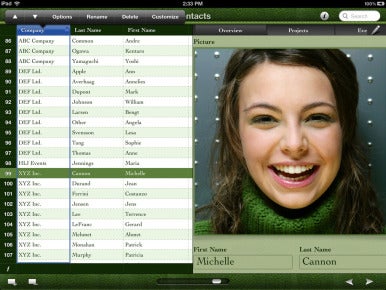 In fact, during a demonstration of Bento 4 for iPad, FileMaker representatives consistently called individual Bento databases "apps." Bento databases are still accessed through the Bento app, they don't appear individually on the iOS Home screen. FileMaker has decided to call a Bento database an app, since the concept of apps is familiar to all iOS users, even though a Bento database isn't an app in a traditional sense. "Functionally, [Bento databases] are the exact same thing as apps," said Rosenberg.
To get you started, Bento 4 for iPad has 25 built-in templates, including templates for contacts, expenses, inventory, and to-do lists. A blank template allows you to build your own database from scratch. Bento 4 for iPad also has direct access to the Bento template Exchange, which houses several templates available for you to use, all for free (not all of the templates are compatible with Bento 4 for iPad).
All the templates are customizable, using a drag-and-drop method of field placement, and the user can take advantage of the entire screen real estate in portrait or landscape mode. New fields in Bento 4 for iPad can store 20 different data types, including text, calculations, GPS locations, ratings, URLs, and more. Also new is support for objects, such as an image box, spacers, horizontal separators, or text boxes.
Bento 4 for iPad also sports 40 new themes that affect the look of your database. All the themes are designed to take advantage of the Retina Display in the third-generation iPad. For example, if you absolutely have to have that leather-bound look that Apple uses with its Address Book, you can find a similar theme in Bento.
The new Table view in Bento 4 for iPad allows users to view data in a spreadsheet-like view. Tapping and dragging can move columns; tapping on the column headers performs a sort. One feature from Bento 4 for Mac ( ), the summary row, is now in Bento 4 for iPad; it allows for instant statistics based on data in a column.
Previous versions of Bento for iPad had a persistent library list, which prevented the use of the whole screen to view a record. The library list can now be hidden so a record can be viewed full screen, and Bento 4 for iPad also has a split view that allows for you to see individual records on one part of the screen, and a Table view of all records on the other part of the screen.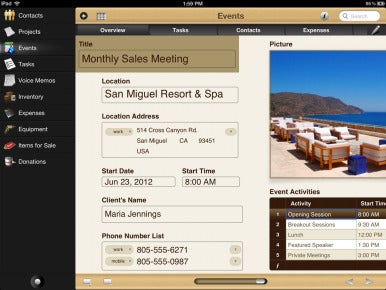 Bento's contacts database has a major change. Bento will bring in information from the iOS Contacts app, but it no longer regularly syncs with the iOS Contacts database. If you enter or modify a contact in iOS's Contacts, the changes do not automatically appear in Bento. You must perform a sync within Bento to carry the changes over. FileMaker representatives cite Apple's APIs and iCloud implementation as reasons for this change.
Other new features include highlighted search, support for encrypted fields, improved access to related records, and the ability to create simple lists.
FileMaker offers a special $5 price for Bento 4 for iPad until July 31, 2012. Afterwards, the app will carry its regular price of $10. The app requires iOS 5 and will work on the third-generation iPad, the iPad 2, and the original iPad. FileMaker is also offering Bento 4 for Mac for $30 until July 31, 2012. The regular price is $50.