Speed Download is a download and FTP manager with features for both basic and more advanced needs. The result is a useful app, which integrates well into Safari and iTunes, and can greatly boost your workflow.
In a sense, Speed Download is really two applications in one: a simple download manager and a more complex download and FTP manager. The app allows you to switch between the two, but—for the uninitiated—the simple download option is more than enough to meet basic needs.
Speed Download can download individual files (or files by URL), upload files, auto-resume, and schedule future downloads. When running in its more advanced mode, Speed Download supports one-click uploads to Rapidshare, as well as download/upload limits and support for multiple servers. The simpler mode is more than powerful enough for average users interested in downloading large files or a large quantity of files.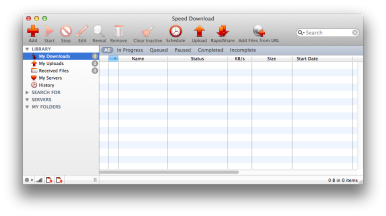 One of Speed Download's most useful features is its support for both iTunes and Safari. Songs downloaded with Speed Download are automatically added to iTunes in a "Speed Download" playlist. By installing the Safari plugin, downloads are rerouted through Speed Download rather than through Safari itself. This feature was something confusing to set up, however, since Speed Download does not offer any notification that the plugin has been installed successfully. I checked the Safari plugins menu manually to confirm that I had set everything up correctly.
While a powerful program, Speed Download's interface can be a little cramped at times. I found myself navigating all of the options and menus to learn more about the many options buried deep within the program. Unfortunately, in testing, Speed Download also crashed several times, both while I was navigating menus and when I left the app open in the background.
Even so, Speed Download is a powerful download application and offers a bevy of features for power users. It isn't the most intuitive program to use, nor the most stable, but Speed Download remains an interesting option for anyone seeking more control over their downloads.