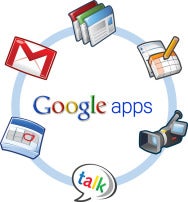 Companies that turn off their local servers for email, productivity, and collaboration applications and switch to the cloud-hosted Google Apps suite can save significant amounts of money in energy costs, Google said on Monday.
The savings typically range between 65 percent and 85 percent, and involve reductions in consumption of energy for powering and cooling the local servers, Google said, citing results of an internal study (PDF link).
Google offered as an example the U.S. General Services Administration (GSA), which signed up for Google Apps for Government this year and moved about 17,000 employees to it from on-premise systems. The GSA cut energy consumption by servers related to email and collaboration applications by almost 90 percent, which will allow it to save about $285,000 per year on energy costs in that area, a reduction of 93 percent, according to Google.
When it takes on customers' workloads, Google spends much less energy than they do because servers in its data center make more efficient use of their computing and storage capacities, and its maintenance and administration costs are less, Google said.
"A typical organization has a lot more servers than it needs—for backup, failures and spikes in demand for computing. Cloud-based service providers like Google aggregate demand across thousands of people, substantially increasing how much servers are utilized. And our data centers use equipment and software specially designed to minimize energy use. The cloud can do the same work much more efficiently than locally hosted servers," wrote Urs Hoelzle, Google's senior vice president for technical infrastructure, in the blog post.
Google has been promoting the benefits of using Google Apps and cloud-hosted software for years, as acceptance of this model has been steadily increasing. Google and other cloud computing proponents constantly highlight that by using cloud-hosted applications, companies can save on hardware sales and software maintenance, while improving and simplifying the way users can collaborate on server-based documents.
However, the benefits of cloud-based software still have to be weighed against potential pitfalls, like application outages and latency, lack of compliance with data protection regulations in certain industries and countries, and software subscription models that may be economically inconvenient for certain companies and in certain scenarios.
[Juan Carlos Perez covers enterprise communication/collaboration suites, operating systems, browsers and general technology breaking news for The IDG News Service. Follow Juan on Twitter at @JuanCPerezIDG.]