At a Glance
Expert's Rating
Our Verdict
Editor's note: The following review is part of Macworld's GemFest 2012 series. Every weekday from mid June through mid August, the Macworld staff will use the Mac Gems blog to briefly cover a favorite free or low-cost program. Visit the Mac Gems homepage for a list of past Mac Gems.
You'd be hard-pressed to prove that you absolutely need Looky 1.0.0 (Mac App Store link). In truth, Looky, a menu-bar utility for quickly popping open a live view from your Mac's built-in camera, is at best a nicety, and at worst a bit superfluous. But it turns out that the utility can prove useful at times.
Click on the eyeball icon in your menu bar, and the Looky window appears, showing your smiling face along with whatever's behind you. The window loads quickly enough, though it generally takes an extra moment or two for the Mac's iSight or FaceTime camera to turn on and the video to appear. Still, the process is notably quicker than launching a built-in app like Photo Booth.
Unfortunately, the video is imperfect: With my MacBook Pro's built-in iSight camera, Looky presents a slightly narrowed and elongated image, meaning I look a bit thinner, so it's not all bad. The effect is slight but noticeable.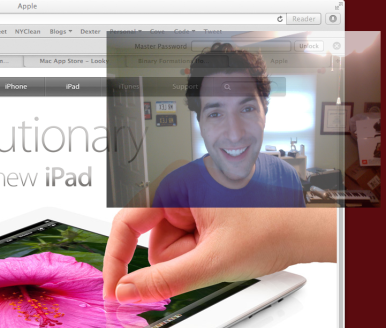 By default, Looky doesn't let you resize its camera window manually, but you can choose among numerous predefined options, from the very tiny Stealth Mode to the screen-overtaking Ego Mode. Click off the video, and it disappears, unless you first click the Pin icon at the upper left of the window. That keeps the video pinned to the menu bar icon until you click that icon again. Switch to Float Mode, however, and you can freely move and resize the video window anywhere on your screen, and it will stay there until you click on the Looky icon in your menu bar again. Note that in this mode, resizing doesn't automatically maintain the proper aspect ratio, so make sure to hold down Shift as you do so.
If you frequently need to spot-check your teeth, or if coworkers (intentionally or otherwise) sneak up behind you, Looky offers an unobtrusive, easy-to-trigger way to see whatever your Mac's camera can see in a hurry.
[Staff writer Lex Friedman may be right behind you at this very moment.]
Want to stay up to date with the latest Gems? Sign up for the Mac Gems newsletter for a weekly email summary of Gems reviews sent directly to your Inbox. You can also follow Mac Gems on Twitter.
Note: When you purchase something after clicking links in our articles, we may earn a small commission. Read our affiliate link policy for more details.