At a Glance
Expert's Rating
Pros
Amazingly powerful find and replace
Excellent set of standard writing tools
Full screen draft view
Customizable user interface
Multiple editable clipboards
Cons
No real outline view for document
More expensive but has fewer features than Pages
No iPad counterpart
Our Verdict
When I last reviewed Nisus Writer Express (version 2.1) back in 2005, it was a pretty decent writing tool. It had powerful formatting via styles (character and paragraph), tables, images, columns, footnotes and endnotes, and other basic word processing features. It also had the trademark Nisus Writer features, which include its commendable use of Rich Text Format (RTF) as its native file format; the ability to customize the user interface extensively; selection of non-contiguous blocks of text; multiple editable clipboards; an insanely powerful find and replace feature; and an equally insane willingness to be pushed around via macros and other programming methods. I described it then as "sleek, flexible and a bit geeky."
That description is still accurate with the latest version of Nisus Writer Express, 3.4.1 ( Mac App Store link). Seven years is a long time in the computer biz, and while Nisus Writer Express doesn't look very different on the surface (and it still has the features I mentioned), it has improved in lots of ways.

What's new?
Nisus Writer Express now supports the latest versions of the Mac OS (Tiger and Lion) and provides OS type user-interface improvements, like full-screen viewing. There have also been regular improvements to Nisus Writer Express's ability to share files with other applications that use different formats. Here are some of the other significant features (besides a few hundred tweaks, bug fixes, etc.) that have been added in the releases since 2005.
Version 2.5: support for right-to-left text input; list styles (bullets and numbering); and improved resizing of images.
Version 2.7: multi-key keyboard shortcuts (great for keyboard control freaks) and leader tabs.
Version 3.0: text wrap around images; glossaries; widow and orphan control, "keep with next" and "keep together" paragraph options; improved note formatting.
Version 3.3: a new Document Manager and style library; and a selection history feature that is fun to use and sometimes useful. (It allows you to jump backwards and forwards to prior editing locations.)
Version 3.4: ability to insert images in a document by reference; support for hyperlinks; improved table formatting and organization; finer control over hyphenation; control over padding around images; improved pagination with end notes; and (one of my favorites) the ability to stop numbering in lists (for example, to insert a comment paragraph) and then resume it.
Is it enough?
If you need or want Nisus Writer Express's special features—in particular, its programmability and/or its fabulous multi-level find and replace tools—then it's capable of doing a couple of jobs that no other word processor on the market can do. The PowerFind feature makes it possible with just a little effort to create complex, context-sensitive find and replace routines, and you don't have to take a college course in Regular Expressions. For example, I was able to take an address list and clean it up so that two-line addresses became one-line addresses, "Street" was changed to "St" and the spelled-out state name "Texas" was converted to the post office's preferred abbreviation "TX". It took a few minutes and a trip to the users guide, but my brain didn't overheat and yours won't, either. Not so easy to do with most other word processors.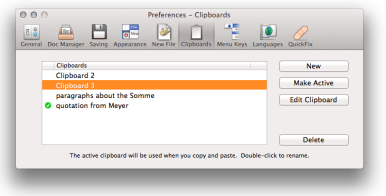 But if you need to manipulate text in this fashion on a regular basis, you should, at a minimum, consider Nisus Writer Express's big brother, Nisus Writer Pro. If you work with right-to-left languages like Arabic or Hebrew, Nisus Writer Express may be perfect for you (although you might want to consider Mellel, as well).
Even if you don't need those advanced, high-powered features, Nisus Writer Express is a very decent basic word processor. If you want to write business letters, school papers (including papers with extensive notes, graphics, and tables), or simply do basic text editing, Nisus Writer Express will do a great job. And it's a pleasure to use. I especially like Nisus Writer Express's draft view, which lets me focus on the writing and worry about the page formatting later.
However, I have to point out that there are alternatives to Nisus Writer Express that deserve your consideration. No, not Microsoft Word ( ). I'm thinking primarily of Apple's Pages ( ). For basic writing and document creation, Nisus Writer Express is as good as Pages—but not better. Pages is just as easy to use as Nisus Writer Express. Pages has a real outline view that will be useful to students; Nisus Writer Express has only an outline-style list feature, which isn't nearly the same. And, for those who need them, Pages has more advanced features (including mail merge, change tracking, commenting) that Nisus Writer Express lacks. These advanced features and others are available in Nisus Writer Pro. Yet Pages is $20, while Nisus Writer Express is $45, and Nisus Writer Pro is $79. Pages has an excellent version for your iPad, as well; there is, alas, no Nisus Lite for the iPad. (This may have something to do with the poor support for Rich Text Format built into iOS.)
Macworld's buying advice
If you own Nisus Writer Express and like it, you have probably upgraded already; if you haven't, by all means, do so. If you already have one license for Nisus Writer Express or Nisus Writer Pro and want a second license, say, for your son or daughter to use for school, Nisus Writer Express makes good sense. And of course, if you give Nisus Writer Express a try and love the way it does things—as you might—rest assured that it's a solid program you won't regret buying.
That said, it's a little harder than it used to be to recommend Nisus Writer Express. It's gotten better, but the alternatives have gotten better, too—and more affordable. If you think you're ever going to want features like change tracking and comments, the ability to write as well as read .DOCX files or export EPUB documents, do mail merge and more, then it makes sense to skip Express and go for Nisus Writer Pro. Even if you aren't sure whether you'll need those features or not, for many Mac users whose word processing doesn't require a lot of heavy lifting, Pages might be a better choice.
[William Porter is a software development and photographer who lives in Dallas, Texas, and is dreading the summer season.]