This week's roundup of iOS accessories will help you run, jump, and see the world around you just a little better than you could before.
AOC: Most docking stations for iOS devices are built around delivering big sounds. The $229 Aire iPlay docking system from AOC aims to deliver a big picture, providing a 23-inch, high-definition flatscreen display that lets you show photos, video, or video games directly from your docked iPhone or iPod touch. The AOC includes built-in 10-watt speakers for stereo sound that matches the picture; it's also relatively portable, weighing in at just 6.3 pounds, making it easy to take a movie wherever you go.
Apen: Most styluses are just tools to let you write and draw on your iPad without having to use your finger. The $100 A5 is a bit different: You plug a dongle into the dock-connector port of your tablet, and that dongle communicates wirelessly with the stylus, letting you draw or annotate documents using one of three compatible apps: FlyNotes, Studio Basic, or IdealNotes. The stylus can also be used in conjunction with Macs running OS X 10.5 or above.
Brookstone: The great thing about the iOS era is that everything is getting more mobile—including the projectors used to show presentations on a big screen in a business setting. Brookstone's $300 HDMI Pocket Projector can project a 1080p image at a size of up to five feet across, but does so in portable fashion—a half-pound device less than an inch thick and just a few inches across in each direction. It will project images from most electronic devices, including iPhones and iPads, though a $40 adapter is needed to connect the projector to iOS devices. Pre-orders for the Pocket Projector are available now; the device ships at the beginning of August. Brookstone also announced that it will ship the $100 Brookstone Virtual Keyboard, a Bluetooth-enabled keyboard compatible with the iPad and iPhone, starting in August.
Kanex: No matter how many iOS cables we have around, we always wish we had one more. Kanex seems to understand our problem, as it's selling iPhone- and iPad-compatible USB-to-dock-connector cables in packs of two for $25 or three for $30. Unlike some non-Apple cables on the market, Kanex says these are good for both syncing and powering up your iOS device.
Kensington: Yes, there are a million keyboard cases out there—so Kensington is trying to distinguish itself with a little style. Its $100 KeyFolio Pro 2 fits the most-recent two generations of iPad, and it comes in brown, red, and caramel. The device features a removable Bluetooth keyboard, as well as a velcro fastener that lets you prop up the tablet at an angle ranging from 20 to 70 degrees; when you're done, it folds back to look like a regular folio-style case. The KeyFolio Pro 2 can also be unfolded to prop your tablet into a display position without the keyboard.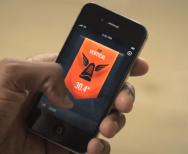 Nike: Nike and iOS have long been linked, and now the sports company is deepening the partnership with three new products— Hyperdunk, LunarTR1, and Lunar Hyperworkout—that use sensors in your Nike shoes to measure your workouts and game-playing, and then wirelessly communicate the data to an app on your iPhone. Nike hasn't yet unveiled pricing information for its new line of shoes, but the launch of the product line occurs on June 29.
USBFever: If you want to capture images of small details, then USBFever's $21 Super 20X Macro Lens with Back Cover might be of help. The device comes with a back cover designed for the iPhone 4 and 4S; if you need to take a photo using the lens you can just screw it onto the case. The phone's flash will be blocked when the lens is on, however, but one upside is that the back cover is also compatible with USBFever's 8x telephoto lens.
iPad (third generation) family
iPhone 4S family
Price When Reviewed:
$599