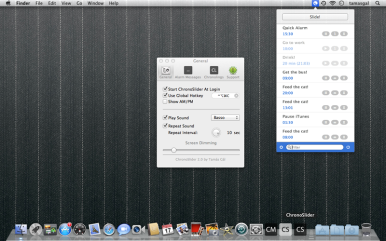 ChronoSlider ( Mac App Store link) receives its name from its simple—yet effective—input method: you set alarms and reminders by sliding your cursor across your Mac's screen. This allows for lightning fast input and less of an interruption to your workflow.
In ChronoSlider, each alarm or reminder is called a "slide." Setting a new reminder is a two-step process: first, set the time, and then name the alarm. ChronoSlider uses large text banners across your screen as alarm notifications. By default, these alarms are not audible, and the text banners only go away when you click them.
However, the app includes an interesting audible component. You can create special alarms, which use the Mac's Text to Speech feature to announce the alarm. ChronoSlider calls these alarms "ChronoLings." I tested one of the preset alarms using this ChronoLings feature and, sure enough, my Mac spoke an alarm command several minutes later at the time I specified. You can choose what you'd like the alarm to say. (I programmed it to say "Drink." An alarm clock that leads drinking games—who knew?)
No matter the type of notification, it does take some time to acclimate to ChronoSlider's unique interface. There are no buttons or menus on the screen: you create an alarm in the menu bar, and then move the mouse across the screen to set the name of the alarm (from a list), and then again to set the time. Luckily, the developer also offers a lite version for anyone interested in learning how the interface works.
Once you get the hang of the unique interface, you'll find that ChronoSlider is a useful little alarm utility. It may not be for everyone, but it is different and easy to use—always an important feature in a timesaver app.